Are you a guitar-playing emo music fan looking for new and exciting songs to add to your repertoire? If so, then you've come to the right place! This post will provide an overview of some easy yet powerful emo songs that are perfect for a beginner guitarist. We'll walk through some simple chords and techniques, arming you with the skills to lay down these hauntingly beautiful tracks from the comfort of your own home. A great thing about it is that both acoustic and electric guitars can be used to play each of the songs, so you don't need to worry about which type of guitar you have. Become ready as we open up our ultimate guide on how to play easy emo songs on guitar!
Easy Emo Songs to Play on Guitar
Teenagers – My Chemical Romance
MCR is known for their angst-filled emo songs, but Teenagers is one of the easiest to learn and play on guitar. Even beginners can quickly master the easy chords and simple strumming pattern. The song also features some powerful lyrics about teenage rebellion which makes it an ideal choice for any aspiring guitarist who wants to show off their skills while expressing themselves through music.
King For A Day – Pierce The Veil ft. Kellin Quinn
This classic emo punk song is a great choice for guitarists looking to learn something a bit more difficult. It features some complicated chord progressions that make it perfect for those who want to take their playing skills to the next level. The song also has an upbeat and catchy chorus that makes it fun to play and memorable for anyone listening.
Therapy – All Time Low
"All Time Low" has a song called "Therapy" which is considered to be one of their most beautiful songs. This emotional song was released as part of their 2017 album Last Young Renegade and it really captures the heartache one feels in difficult times. It has a simple chord structure that makes it easy to learn on guitar, and its heartfelt lyrics make for an incredibly powerful performance. Even beginners can easily play the chorus since it is mainly composed of power chords and a few open chords. For those who want to add another layer, you can also play some lead lines during the verses that will give the song a more dramatic feel and make it even more impactful than what's already there. [1]

Warning – Green Day
Green Day has been around for a long time and their songs have become timeless classics. "Warning" is one of the band's most powerful emotional songs, with its catchy chorus and simple guitar melodies. The verses are mainly composed of open chords that are easy to learn, while the bridge consists of some interesting power chord progressions. It's an incredibly powerful song that speaks volumes about how hard it can be to cope in this world, making it an ideal choice for emo guitarists.
I Write Sins, Not Tragedies – Panic! At The Disco
Playing this guitar song is a classic choice within the emo genre. The song is ideal for novice musicians who want to practice their chord changes and strumming techniques as it involves only three fundamental chords (G, D, and C). The intro riff also has some easy power chords which adds an extra layer of depth. Despite this, the song sounds full and can be easily played with just a beginner level of skill. Once you have mastered these chord progressions, there are a few extra licks in the chorus that can really make your version stand out. All in all, this is a timeless classic that will never go out of style!
Young Volcanoes – Fall Out Boy
This is a great upbeat song with some catchy guitar riffs. It has a relatively simple structure that makes it easy to learn on the guitar and can be quickly picked up by beginners. Focusing on energetic strumming and basic chords, this one should be fairly straightforward for those just starting out. The added bonus of this track is that it's a really fun song to play – the chorus riff will get stuck in your head after just a few runs!
The Edge – Tonight Alive
This emo-punk ballad is a great way to get started on learning the guitar. Its simple chord progression and soothing vocals make it an ideal song for beginners. It also features some complex riffs that will challenge even experienced players. With its intricate guitar lead and singalong chorus, this song can provide hours of entertainment. Learn how to play The Edge right away with our easy tutorial!
The Only Exception – Paramore
This emotive song from Paramore's 2009 album Brand New Eyes is a great choice for new guitarists. Its simple verse-chorus structure makes it easy to remember, and its low volume levels make it perfect for practice. The sweet melody of the chorus will have you humming along in no time! Check out our tutorial to learn how to play The Only Exception today. [2]

In The End – Black Veil Brides
This song is a classic emo tune from the beloved band Black Veil Brides. The track features some of the band's signature riffs and heavy chords that will make you feel like you're in the middle of a mosh pit. It has an emotional melody that will surely bring out your inner rocker. The verses are relatively easy to play on guitar, but if you want to really show off your skills, try playing the solo at the end. It definitely takes some practice, but it's worth it!
Famous Last Words – My Chemical Romance
This is another classic emo anthem that will get you rocking. It starts off slow and builds up to an intense chorus that is ideal for headbanging. The song features some great guitar riffs and a memorable solo. If you're looking for something challenging, this is the perfect tune to practice on your guitar.
Blink-182 – I Miss You
This classic emo song by Blink-182 is a great way to get started on your guitar. Its simple chord progression makes it easy to learn, but its emotional depth adds complexity that will keep you engaged as you play. The main chords are G, Bm7, and Em9, so if you're already familiar with these chords then playing this song shouldn't be too hard. To really bring out the emotion of the song, try adding details like slides or bends on certain notes in each chord. With some practice, you can create an awesome version of this popular emo classic!
Taking Back Sunday – Flicker Fade
Another great song to play on the guitar is Taking Back Sunday's Flicker Fade. This emo ballad relies heavily on open chords, making it a good option for beginners. The main chords are G, D, Em7 and Cadd9, which should be fairly straightforward if you have a basic understanding of chord shapes. To keep things interesting you can experiment with different strumming patterns or add some vibrato to certain notes while playing each chord. With practice, you can make this song sound as emotive as the original!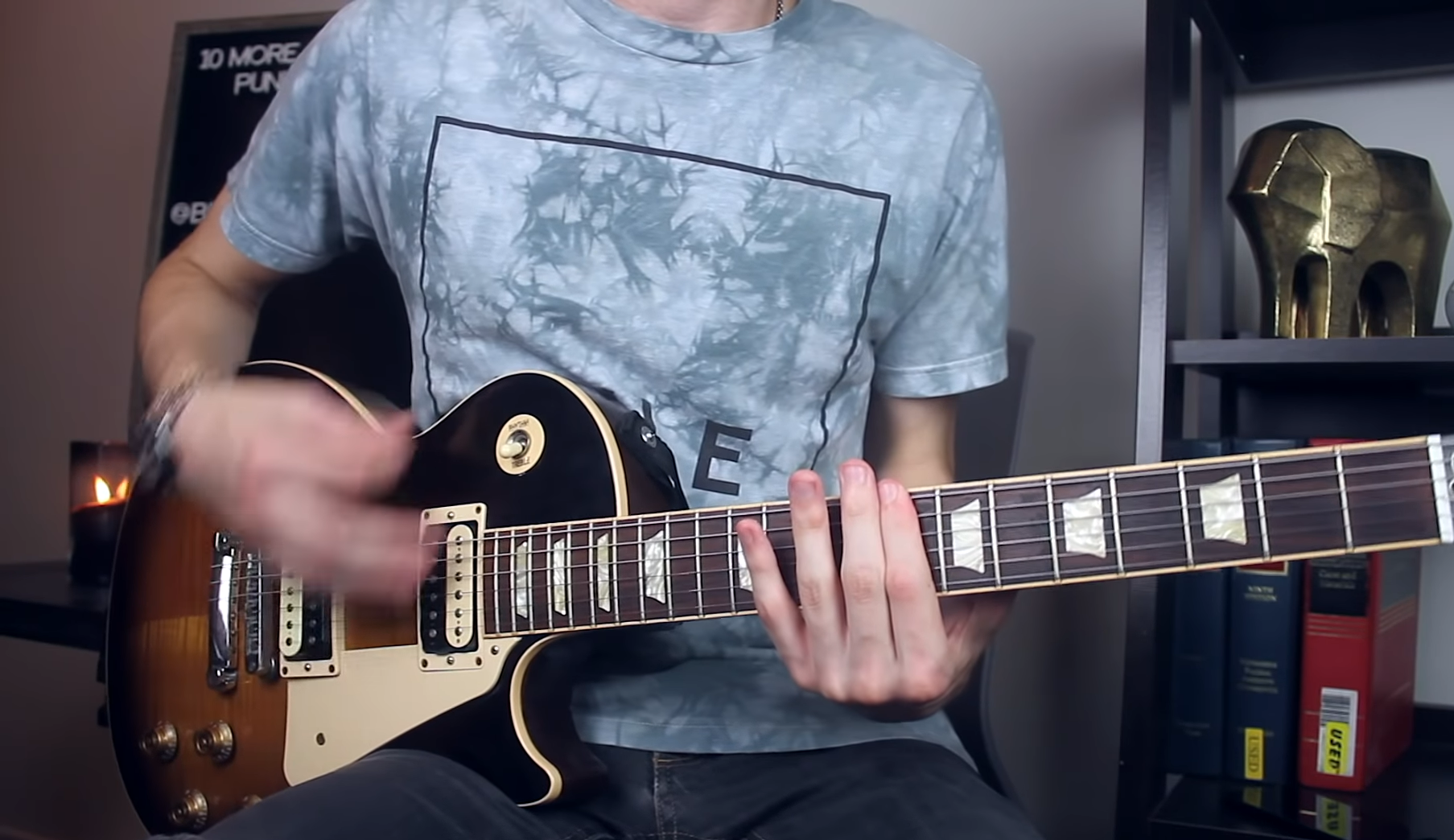 Green Day – Wake Me Up When September Ends
This classic song was released in 2004 and is still one of the most recognizable emo songs by Green Day. It tells a story of loss and longing, making it a perfect choice for guitarists who want to explore different kinds of emotions. The chords are fairly straightforward and the riffs can be mastered with practice. If you need some inspiration while learning this song, consider watching the music video which features an old couple reminiscing about their time together and how life has changed since then. Playing this track on guitar won't just make you sound great, it will also allow you to explore your own feelings as well as those of Billie Joe Armstrong himself. [3]
The Used – Empty With You
This track, released in 2018, speaks of the loneliness that comes with heartbreak. It is an acoustic song played predominantly on guitar, making it perfect for strumming along to. The lyrics are full of emotion and this can be expressed through your playing as well. With plenty of chord progressions and interesting riffs to master, Empty With You should become a part of your repertoire if you want to explore the depths of emo music.
21 Pilots – Heathens
This easy emo song to play on guitar from the 2016 Suicide Squad soundtrack is one of 21 Pilots' biggest hits. It features just a few simple chords and an upbeat rhythm that make it perfect for beginners. To start, you'll need to know D minor, G major, C major, and A minor chords. You can use either barre or open position chords depending on your preference. Once you have those down, add in some small hammer-ons and pull-offs to really give it life. With its catchy lyrics and memorable melody, Heathens is sure to be an instant classic for any aspiring guitarist!
Wheatus – Teenage Dirtbag
This classic emo song from Wheatus is an excellent choice for beginner guitarists. It features some basic strumming and a few chords, so you won't have to worry about tackling too many complex techniques. All you need is three chords: E major, A major, and D major. To pull off the iconic distorted chorus sound of Teenage Dirtbag, make sure you're using plenty of distortion on your electric guitar or switch to the acoustic if that suits you better. Either way, this track will be a hit with any audience!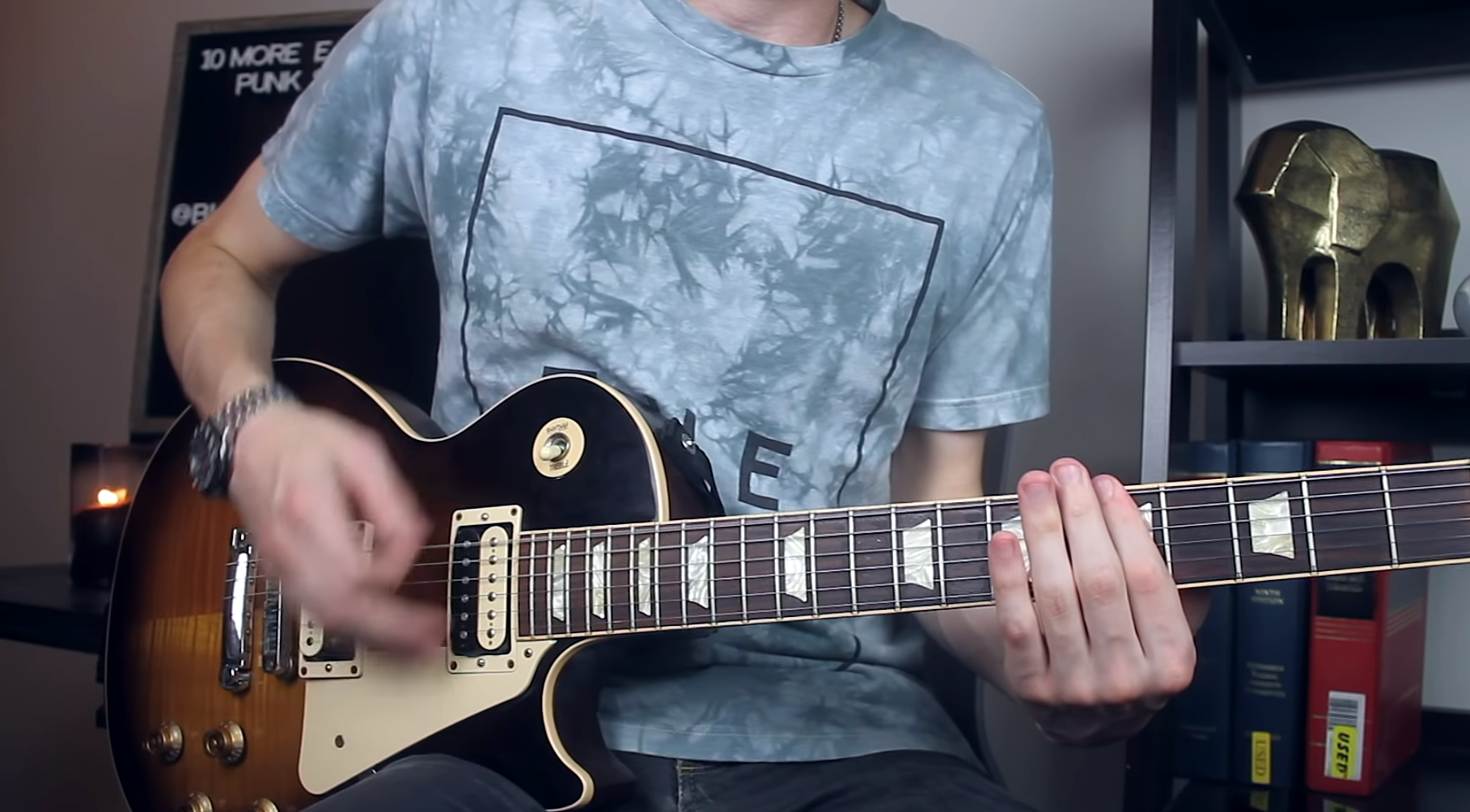 Palaye Royale – Ma Chérie
Palaye Royale's song "Ma Chérie" is a great choice for those looking for an easy-to-play emo song on the guitar. The intro riff serves as an excellent warmup for any novice player, and it only takes a few strums of the chords to bring this track to life. The simple repeating chorus will make singing along easy, and its melancholic vibe will help bring out your inner emo. Plus, with lyrics like "Now I just float away in the air / I'm free from all my pain and despair", you can really tap into your emotions while playing this one. So grab your guitar (and maybe some tissues) and get ready to rock out with "Ma Chérie".
Against Me! – Black Me Out
If you're looking for a punk-tinged emo anthem, then Against Me!'s "Black Me Out" should be at the top of your list. The driving drum beat and heavy guitar riffs will make this one an instant favorite, but it won't take too long to learn either. With its straightforward chords and easy to remember lyrics, you can learn how to play "Black Me Out" in no time. Plus, its message of defiance against the status quo is sure to get you pumped up while playing it. So if you're ready to give your guitar a real workout, strap in and go full throttle with "Black Me Out". [4]
Hayley Williams – Simmer
Hayley Williams' Simmer is a great song for any beginner guitar player. This song has plenty of strumming patterns and chords that are relatively easy to learn and master. What's more, the lyrical content is heartfelt and bittersweet, making this a great choice for an emotional performance. With its simple yet effective guitar parts, Simmer is definitely one of the top easy emo songs to play on guitar!
Sum 41- In Too Deep
Sum 41's In Too Deep is a great classic punk-pop song that you can easily learn to play on guitar. It's relatively simple and straightforward, making it a great choice for any beginner players out there. The strumming patterns are fairly easy to master, as well as the chords used in the chorus of the song. Plus, this song is packed with energy and emotion, so it makes a good performance piece too!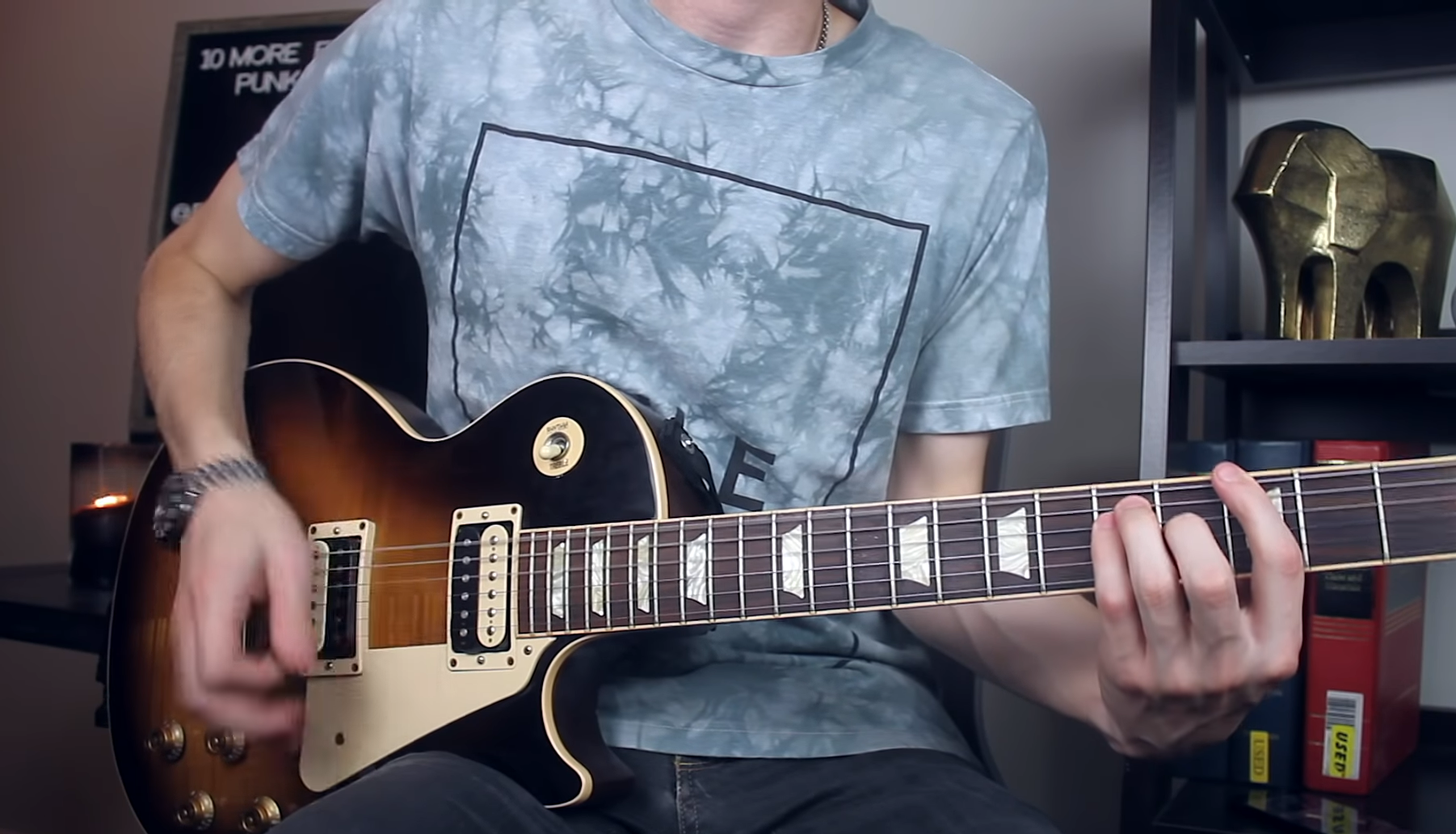 Paramore – Misery Business
Paramore is known for their emo-infused punk rock sound and Misery Business is one of their most popular songs. This song has three chords, making it an easy choice for beginner guitarists. Although the tempo might seem a bit fast at first listen, with practice, you'll be able to master this classic hit in no time! The lyrics to the chorus are simple, yet powerful: "I'm in misery business/It's what I know best". This song resonates with many listeners who can relate to its emotion and message. Try playing along with Paramore's version or create your own unique rendition. Either way, this is sure to be a great addition to your repertoire of emo songs on guitar.
All American Rejects – Dirty Little Secret
Another popular song by emo-inspired band, All American Rejects is Dirty Little Secret. This song has only two chords and the lyrics are easy to follow. The chorus is "I keep it on the low/Nobody has to know" which gives a sense of mystery and secrecy that can be felt in many different situations. While playing this song, try strumming at a moderate tempo and practice those chord changes so you can easily move from one to the other. Once you have perfected it, play your own version of this classic hit!
Avril Lavigne – Sk8r Boi
This classic rock-pop anthem by Avril Lavigne is a great example of an easy emo song to play on the guitar. The main riff is simple and repetitive, making it easy to learn quickly. The chords used in the chorus are also fairly straightforward, so you should be able to pick them up quickly. To make the song even easier, try playing with a capo on the 2nd fret – this will raise all the chords one half step and make them simpler to play. Give this one a try if you're just starting out or need something quick and easy to jam on! [5]
Blink-182 – All The Small Things
Another classic rock-pop song perfect for the novice emo guitar player. All The Small Things by Blink-182 is a great choice if you want something slightly more upbeat and fun to jam on. This one also uses fairly straightforward chords, making it easy to learn quickly. One tip for playing this song is to keep a steady rhythm when strumming – even though the chord progressions are simple, they can sound intricate if you keep up a consistent beat.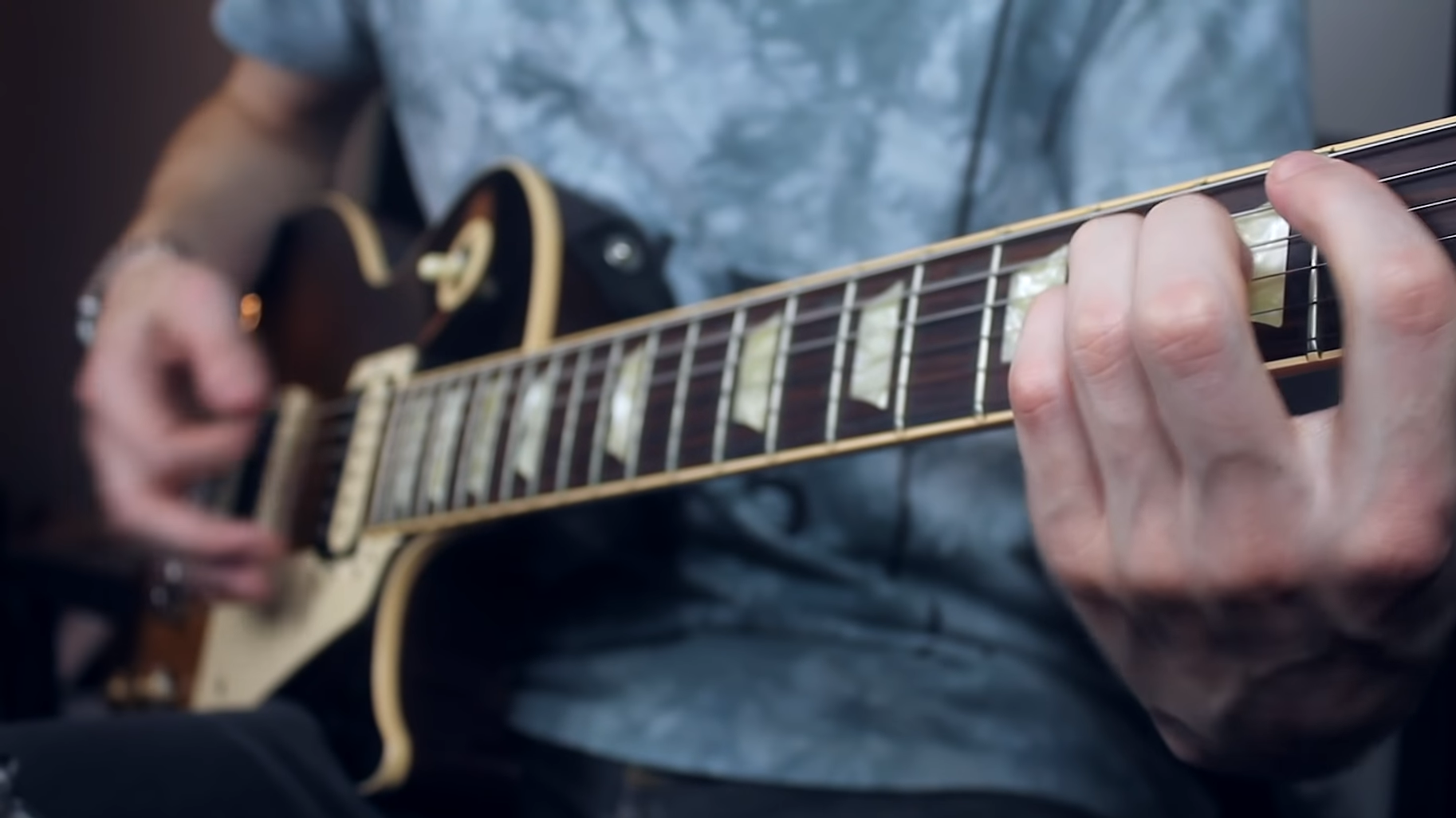 Gives You Hell – All American Rejects
Gives You Hell by the All American Rejects is an easy emo song to play on guitar because there are not a lot of chords involved. The song uses the basic E, A, and D power chords as well as a few others that are not too difficult to master. The guitar solo is also quite simple but effective in enhancing the emotional impact of the song. This classic rock tune has been covered by many bands and artists over the years making it a great choice for those who want to learn how to play an emo song on guitar. It's perfect for beginners who want to get started playing some of their favorite songs quickly and effectively.
Fall Out Boy – This Ain't A Scene, It's An Arms Race
This Ain't A Scene, It's An Arms Race by Fall Out Boy is another excellent example of an easy emo song to play on guitar. The rhythm and lead are both quite simple, but the overall sound of the track is still incredibly powerful. The chorus in particular is very catchy and will draw listeners in from the first listen. This song makes use of some open chords as well as a few power chords so it may take some practice to get it right. But with its upbeat energy and memorable hook, this song will definitely have you rocking out in no time!
All Time Low – Remembering Sunday
This song is a great choice if you're looking for an easy emo song to play on guitar. It's performed by the rock band All Time Low, and it has a very catchy chorus that needs just three chords to play. The chords used are C major, G major, and D major, so you can easily learn it with a few practice sessions. The song also features some nice chord changes that flow well together and make for an enjoyable experience while playing. If you're just starting out learning how to play guitar, this song is definitely worth checking out!
30 Seconds To Mars – The Kill
This song by 30 Seconds To Mars is a great pick for those who are looking for an easy emo song to play on guitar. It features two simple chords – B minor and A major – that make it easy enough for even the most novice of guitar players to learn quickly. The solo in this song is particularly catchy, and when combined with the simpler chords, you'll be able to produce an amazing version of this classic track. [6]

We Are The In Crowd – The Best Thing (That Never Happened)
This song from We Are The In Crowd is a perfect choice for guitarists looking to play an easy-to-learn emo song. The chords are relatively simple and it has a great rhythm. It's upbeat yet melancholic, making it ideal for capturing the spirit of the genre. The lyrics also contain many metaphors that make it particularly well suited for expressing emotions. With some practice, guitarists can soon be playing this classic tune with ease. You can find the tabs online or in sheet music form if you prefer.
We The Kings – Check Yes Juliet
This is another popular emo song from the band We The Kings. It's a bit more complex than the previous one but still quite easy to learn with some practice. The chords are relatively simple and the rhythm is catchy, making it perfect for playing along with at parties or concerts. The lyrics also contain several clever metaphors that add to its emotional resonance. You can find tabs online as well as sheet music if you prefer that format. Once you master this song, you'll have no problem captivating an audience with your rendition of it!
Plain White Ts Hey There Delilah
It is one of the most popular easy emo songs to play on guitar. It's a great song to learn for beginners, because it only uses three chords and has a simple but catchy melody. The lyrics are also both relatable and nostalgic, which makes it an excellent choice for those just starting out learning the instrument. This song can be played as either an acoustic or electric version, making it very versatile and adaptable to different skill levels. Another great choice for easy emo songs to play on guitar is Brand New's Deja Entendu. [7]
FAQ
What is a good easy song to play on guitar?
When it comes to easy songs to play on guitar, there are a plethora of choices! Some popular picks include classic rock hits like "Sweet Home Alabama" by Lynyrd Skynyrd or "Smoke On The Water" by Deep Purple. For more modern emo tracks, consider playing "I Write Sins Not Tragedies' ' by Panic At The Disco or "Float On" by Modest Mouse.
What chords should I use for an easy emo song?
For easy emo songs, most will use basic major and minor chords. You can check out chord progressions online for specific songs you may be looking at learning. Additionally, you could take some time to learn some basic guitar scale and chord patterns, which will open up a lot of possibilities when it comes to playing more complex emo songs.
Are there any other tips for playing easy emo songs on guitar?
Yes! Along with chords, you'll want to practice your strumming techniques. Try experimenting with different rhythms and speeds to find something that sounds good to you. Additionally, take some time to learn the melody of the song as well as any riffs or solos that may be included in the track. By taking these extra steps, you'll be able to play a much better sounding version of the song on guitar.
What songs count as emo?
Emo music is defined as a style of alternative rock with its roots in punk and post-hardcore. The songs are usually characterized by personal, passionate lyrics that focus on topics like relationships, mental health and heartache.If you're looking to play some melodic songs on guitar with an emo vibe, here are some great ones to try:
"Good Riddance (Time of Your Life)" by Green Day – This classic track captures the bittersweetness of change and moving on from difficult situations or people.
"The Downfall Of Us All" by A Day To Remember – This song dives into the idea of how tragedy can be inevitable in life, but we can still choose to be resilient and keep going.
"All The Small Things" by Blink-182 – This song is a fun and lighthearted take on the feeling of being overlooked or underestimated in life.
"Misery Business" by Paramore -This track explores the drama of teenage relationships, with lyrics about self-doubt and confusion.
"Fake Happy" by Paramore – This song digs into how it can feel like you have to put on a brave face even when going through hard times.
"I Write Sins Not Tragedies" by Panic! At The Disco – This one speaks to the idea that sometimes our own choices and decisions can lead to regret.
"Sleep Deprived" by As It Is – This one is about trying to stay afloat emotionally despite feeling overwhelmed and exhausted from life.
7 Licks That Teach You Midwest Emo In Standard
Conclusion
Learning to play emo songs on the guitar can be an incredibly rewarding experience. Whether you're a beginner or a seasoned guitarist, there are plenty of easy emo songs out there for you to learn. From classic rockers like Green Day and Blink-182, to modern favorites like My Chemical Romance and Fall Out Boy, finding the right song that fits your level of skill and style is key. With some practice and dedication, you'll be playing your favorite emo tunes in no time!  Good luck!
References:
https://bestguitarsnow.com/25-easy-emo-and-pop-punk-songs-to-play-on-guitar-tabs/
https://beginnerguitarhq.com/emo-songs/
https://www.altpress.com/easy-pop-punk-songs-to-play-on-guitar/
https://rockguitaruniverse.com/punk-guitar-songs/
https://killerguitarrigs.com/easy-acoustic-guitar-songs-for-beginners/
https://instrumentio.com/easy-punk-songs-on-guitar/
https://www.fender.com/articles/songs/10-easy-rock-songs-to-learn-on-guitar