Are you looking for a spooky yet easy way to get into the Halloween spirit? Learning and playing some Halloween-themed piano songs is the perfect way to set the mood this fall. Whether it's creating your own creepy tune or mastering an already established one, learning how to play these haunting melodies on the piano can be great fun. In this post, we'll explore some of the most popular and accessible Halloween piano songs that are sure to surprise any listener. From brand new chord progressions that sound like something out of a horror movie soundtrack, to rockin' renditions of old favorites – prepare yourself for some ghoulishly good tunes!
Easy Halloween Piano Songs
1. Monsters Everywhere
This lively tune is perfect for any Halloween celebration. It captures the playful spirit of the holiday and can be performed as a solo piece or with an accompanying instrumental track to give it extra energy.
2. Monster Mash
This classic Halloween tune is sure to be a hit when you add it to your piano repertoire! It's a great opportunity for showing off your playing skills with its catchy melody and rhythm. The song follows an A-A-B-A structure, so once you get the hang of it, you can have some fun improvising solos between verses. It's not too difficult either—just follow the chord progression and let your creativity take over. If you need a challenge, you can also try adding in some added jazz chords like diminished 7th or altered ninth chords to really make it spooky!
3. Suspiria – Goblin
Goblin's theme from the horror movie Suspiria is another great Halloween piano song. It has a unique, eerie sound that will create an atmosphere of suspense and mystery when played. The melody progresses through several chords, so it's a good opportunity to practice your chord changes while playing this song. You can even try to add in some spooky embellishments like trills and arpeggios for a more dramatic effect!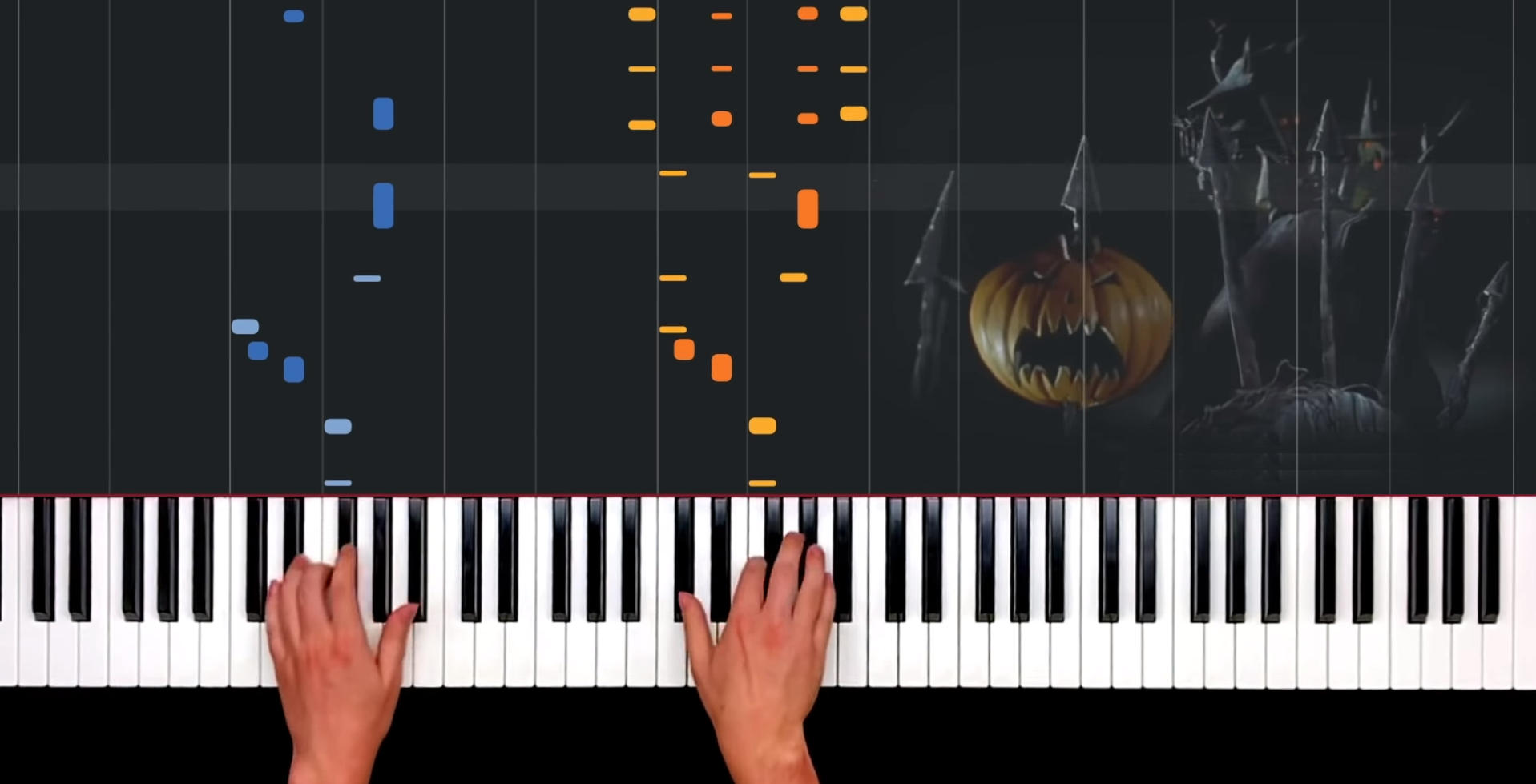 4. Thriller
This classic 80s song is a must for any Halloween playlist. Written and performed by Michael Jackson, it has been covered many times over the years. This eerie and spooky composition will definitely get your guests pumped up for Halloween! To play this on the piano, you'll need to know a few simple chords and syncopated rhythms. It may take some practice, but once you've mastered it, you'll be able to impress everyone with this iconic song! Have fun playing Thriller! [1]
5. This is Halloween
This quirky fun song is from the 1993 musical The Nightmare Before Christmas. Composed by Danny Elfman, this song features a haunting melody and plenty of creepy sound effects that will be amazing to recreate on the piano! This one has quite a few notes in it, so you'll have to practice it for a while before you can bring out its full spookiness. However, once you get the hang of it, your Halloween party will be sure to rock with this classic tune!
6. Smoke on the Water
This classic rock song from 1972 is an easy one for beginners to learn on the piano, and it's sure to be a hit at your Halloween gathering. The simple melody and chords make it a great choice for those just starting out with piano playing. If you're feeling more adventurous, try adding some of the improvisational elements of Deep Purple's performance to your version! This song is sure to please listeners of all ages!
7. Spooky Scary Skeletons
This non-traditional Halloween song has become a cult classic, and its catchy melody is perfect for the piano. The song's simple arrangement makes it easy to learn on the instrument, and you can experiment with different chord progressions to give your performance a unique twist. Don't be afraid to get creative and add some eerie sound effects!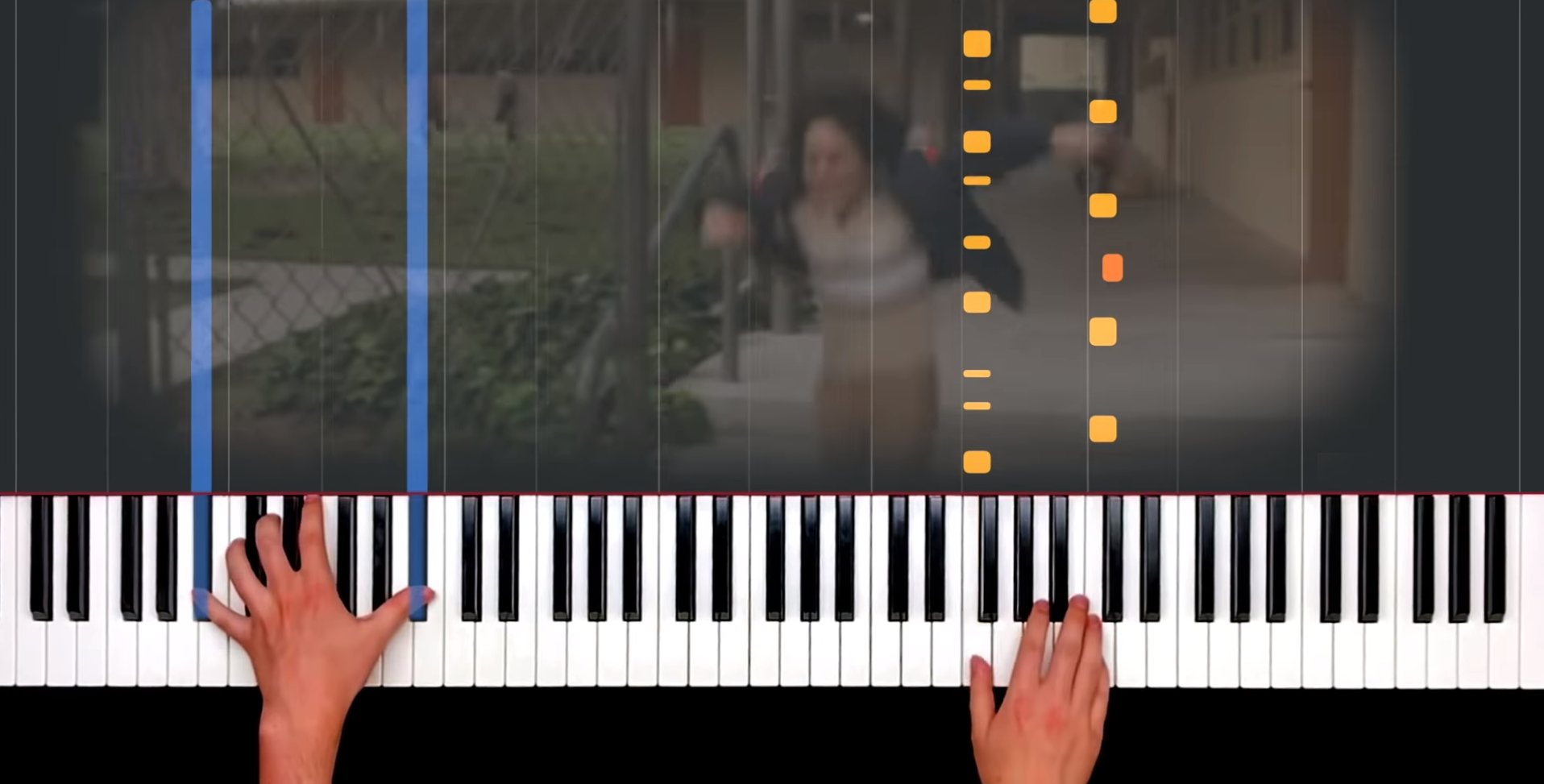 8. Werewolves of London
This classic Halloween tune has lyrics that will make your audience howl with delight. The piano accompaniment is simple enough for beginners, but even experienced players may find it tricky to replicate the song's signature bluesy feel. With some careful practice, you'll be sure to put a smile on everyone's face when you play this classic Halloween number.
9. The Skeleton Dance
This spooky little tune is perfect for children and adults alike. It features a cute, bouncy melody that's easy enough for beginning pianists to reproduce without much difficulty. With some practice and dedication, you'll be able to give your audience the creeps with this fun Halloween song.
10. Don't Fear the Reaper
This classic hard rock song is a great addition to your Halloween piano repertoire. It has driving rhythm and sinister tones that will evoke images of the grim reaper coming for his due. With its simple 4-chord progression, it's also easy to pick up quickly and play. The ominous lyrics make this an easy choice for a Halloween party. As you're playing, invite guests to sing along with its memorable chorus – "Don't fear the Reaper / Baby take my hand!". [2]
11. Somebody's Watching Me
Released in 1984, this song was written and recorded by Rockwell and Michael Jackson. It's an iconic Halloween jam that tells the story of someone who feels they're being watched by something supernatural. The upbeat tempo and minor chords create a creepy atmosphere that will instantly transport anyone listening back to the 1980s. Plus, it has a catchy hook that's easy to sing along with – "I always feel like somebody's watching me /tell me is it just a dream?"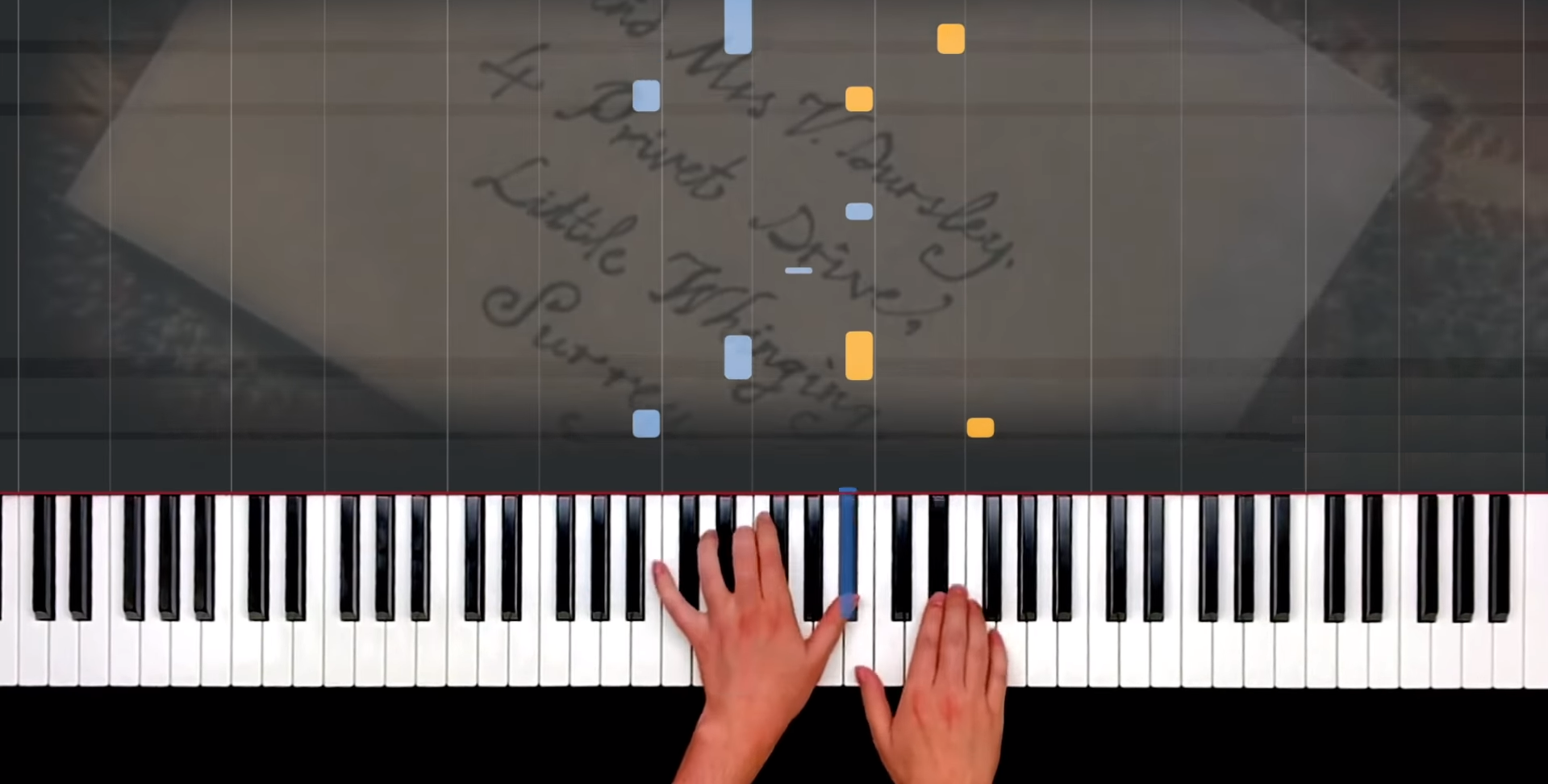 12. Ghostbusters
This is a fun classic that your kids will be sure to love. It has an upbeat tempo and the catchy lyrics make it easy to learn. Plus, it's another great costume idea! The recognizable ghost logo can be made with just a few items from your craft box and fits well with any Halloween costume! This song is sure to have everyone singing along in no time at all. It's the perfect way to get in the spooky spirit of Halloween!
13. Witch Doctor
This is a great song to start your Halloween party off with and your kids will love it! The recognizable "Oo Eee Oo Ahh Ahh" chorus, paired with the humorous lyrics make this one an instant hit. Once your kids get the hang of it, they can put on their own rendition of the song and provide plenty of entertainment for you and your guests!
14. Ten Scary Steps
This is an easy Halloween piano song that will put your spooky music skills to the test. It features tricky fingerings and creepy chords to create a sinister atmosphere. The melody is simple and haunting, making it perfect for Halloween parties or a horror movie viewing session. Play around with tempo and dynamics to make this piece even more eerie!
15. The X-Files Theme
The X-Files theme song is perfect for Halloween piano playing. Whether you're a fan of the show or just interested in some spooky tunes, this eerie tune will certainly get your audience into the Halloween spirit. This haunting composition was written by Mark Snow and has been featured in every episode of the show since its first season. It features a distinct blend of synthesized mellotrons, electric guitars, and basslines that create an otherworldly atmosphere. Give it a try this Halloween! [3]

16. I Walked With A Zombie
This classic tune by Roky Erickson is a great addition to your Halloween piano playing. Originally released in the 1960's, this song narrates the story of a young woman who has been cursed and turned into an undead creature. It features slow and melancholic melodies that build up to some truly haunting moments. It's perfect for getting everyone in the mood for spooky season!
17. The Hearse Song
This easy Halloween song is a classic and can be learned on the piano with relative ease. The spooky lyrics tell the story of a hearse coming to take someone away, providing an eerie atmosphere perfect for any Halloween party. It's also an old folk tune, so you can have some real fun learning it.
18. The Devil Went Down to Georgia
This classic country song has been adapted for piano to create a fun and spooky Halloween cover. The Devil Went Down to Georgia is about a fiddle contest between the Devil and a young man named Johnny. The song features dynamic minor chords, making it perfect for an ominous Halloween performance. With some practice, this arrangement can bring out all the intensity of this toe-tapping tune.
19. The Time Warp
The Time Warp is a song from the cult classic film, The Rocky Horror Picture Show. This piano arrangement captures all of the intensity and energy of the original track, making it perfect for an upbeat Halloween performance. With its syncopated rhythms and bluesy chords, this rendition will keep your audience dancing around the room!
20. I Put A Spell On You
This spine-tingling classic is perfect for getting into the Halloween spirit. The eerie accompaniment of this song will get everyone in the mood to celebrate this spooky holiday. A great piano arrangement can be found on Youtube from performer, Tom Kite, that makes for a memorable rendition of this classic track. [4]

Tips on Playing Halloween Piano Songs
If you're a piano player looking for something fun to play around Halloween, there are many easy Halloween piano songs that can help you get into the spooky spirit of the season. Here are some tips on playing these pieces:
Tune up and prepare your instrument before beginning. It's important to make sure the piano is properly tuned before playing any piece, as this will ensure that it sounds its best and give you the most accurate sound possible.
Choose a song with an appropriate tempo. Piano pieces with spooky themes often have slower tempos, but if you want to create a more upbeat atmosphere, choose one that has a faster pace instead. Whatever tempo you choose, be sure to practice it regularly in order to become comfortable playing the piece.
Learn the song by ear or with sheet music. If you're not familiar with a particular piece, listen to a recording of it and try to learn it by ear. Alternatively, if you have access to the sheet music for the song, use that as a guide when learning how to play it.
Add your own spooky flourishes and decorations. Once you've practiced and perfected the main melody of the song, add in some additional notes or chords at key places throughout the piece to give it an extra eerie feel. You can also decorate certain elements of the song with trills, glissandos, or other techniques to create a more unique sound.
Have fun with it! Halloween is all about having a good time, so don't be afraid to get creative and express yourself while playing the piece. Add in some of your own personal touches that make you feel comfortable and happy when performing.
By following these tips, you can easily learn one of many easy Halloween piano songs and add some spooky flair to your performance this season. [5]

Pros and Cons of Piano Songs for Halloween
The use of piano music in any setting is always a great choice as it offers a relaxed, calming atmosphere. This makes it perfect for the spooky and eerie feel that comes with Halloween celebrations. However, there are some pros and cons that must be considered before using piano songs for Halloween.
Pros:
Piano music creates an atmosphere conducive to storytelling and singing along, making it ideal for playing traditional Halloween stories or songs.
Piano compositions can be easily adapted to fit different levels of difficulty, so both beginners and experienced players will enjoy learning the tunes.
Piano music also has a wide dynamic range – from hauntingly low notes to jolly high notes – allowing you to recreate the perfect mood for your Halloween festivities.
Cons:
Some Halloween events may require more upbeat and exciting music, which a piano-only soundtrack might not provide.
Piano music typically requires a great deal of practice before it is mastered, so some people may find it too challenging or time consuming to learn.
In addition, piano pieces can be very hard to transcribe into sheet music if you are not used to reading musical notation. This can make learning traditional Halloween songs difficult for those who do not have access to sheet music.
Overall, piano music is an ideal accompaniment for any type of Halloween celebration and has many advantages that should be taken into consideration when planning your event. With careful consideration of the pros and cons of piano music for Halloween, you can be sure to create the perfect soundtrack for a spooky night of fun!
FAQ
How to play Halloween theme songs on piano?
To play Halloween theme songs on piano, you will need to have some basic knowledge of reading music. You can learn this by taking lessons, using online tutorials or even visiting your local library for resources. Once you have a good grasp of the basics, it's time to start finding tunes! Start with easy-to-play Halloween pieces like "The Addams Family Theme," "Monster Mash" and "Thriller." These songs are great for beginners because they use simple rhythms and melodies that can be learned in a short amount of time.
What are some beginner-friendly Halloween piano pieces?
There are many beginner-friendly Halloween piano pieces available for both adults and children. Some popular choices include "Witches Brew" and "Spooky Scary Skeletons." Other great options include pieces like "Carol of the Bells" and "This Is Halloween." These songs vary in difficulty, but all can be mastered with a little bit of practice.
What are some more advanced Halloween piano pieces?
More advanced players may want to try their hand at classical pieces such as Bach's Toccata and Fugue in D Minor or Beethoven's Moonlight Sonata. For something more modern, try out Danny Elfman's theme from "The Nightmare Before Christmas" or Mozart's "Requiem Mass." All of these tunes are sure to add an extra spookiness to your Halloween playing.
What are some tips for playing Halloween piano pieces?
When learning how to play any new piece of music, it is important to take small steps and focus on the details. Listen to recordings of the pieces you're trying to learn and try to reproduce them as closely as possible. Break down any challenging sections into smaller parts so that you can practice each part separately before putting them back together again. Finally, make sure to have fun while picking out your favorite Halloween tunes!
What classical songs are used during Halloween?
Classical compositions have been used in Halloween festivities and events for many years. There are some famous pieces that come to mind such as Bach's 'Toccata and Fugue in D Minor', Mussorgsky's 'Night on Bald Mountain' and Saint Saens' 'Danse Macabre'. Other great classical pieces that are perfect for adding a spooky edge to the evening include Mozart's 'Requiem KV 626', Liszt's 'Mephisto Waltz No. 1' as well as Mendelssohn's 'Witches Ride'. You can also find inventive uses of traditional Christmas carols, such as Chopin's 'Silent Night', or Grieg's 'In the Hall of the Mountain King'. These pieces can all be found arranged for piano, making them great options for a Halloween performance!
What's the number 1 Halloween song?
The undisputed number one Halloween song is undoubtedly Michael Jackson's 'Thriller'. This iconic 80s track has been adapted and reproduced countless times for various spooky events, making it an essential part of any Halloween celebration. It's easy to find arrangements suitable for the piano, ensuring you can get a great performance of this classic.
Are there any popular children's songs that could be used at Halloween?
Absolutely! There are plenty of kid-friendly songs that parents and children alike will enjoy singing along to during the holidays. 'Monster Mash' by Bobby Pickett is perhaps the most famous example. Other good ones include Danny Elfman's 'This Is Halloween', Cameron Mackintosh's 'Superstition' and 'The Addams Family Theme'. There are plenty of arrangements available for all of these songs, so you'll be able to find something suitable for the talents of your pianist. No matter what type of song or arrangement you choose, the piano can help create a spooky atmosphere perfect for any Halloween event!
How old is Halloween?
This spooky holiday is believed to have originated over 2,000 years ago in Celtic cultures. The Celts, who lived in what is now Ireland, the United Kingdom, and Northern France, celebrated a festival known as Samhain. During this time of year they honored their ancestors and marked the end of summer by lighting bonfires and dressing up in costumes to ward off evil spirits. Today, Halloween is celebrated around the world with costumes, candy apples, trick-or-treating and of course music!
Useful Video: Michael Myers – Halloween Theme Song (Piano Version)
Conclusion
Halloween is a great time to try out some spooky tunes on the piano. From traditional favorites like Michael Jackson's "Thriller" and "The Monster Mash," to more modern classics like "This Is Halloween" from The Nightmare Before Christmas, there are plenty of easy Halloween piano songs for players of all levels. With just a bit of practice, you can have fun playing these festive compositions in no time. So grab your sheet music or search online for some easy arrangements – it's time to get into the Halloween spirit!
Happy haunting!
References:
https://www.flowkey.com/en/halloween-piano-songs
https://www.music-for-music-teachers.com/halloween-songs.html
https://www.musicnotes.com/blog/10-halloween-pieces-for-solo-piano/
https://www.letsplaykidsmusic.com/easy-halloween-piano-song-spooky-sounds/
https://tomplay.com/blog/post/10-scary-piano-songs-to-learn-on-halloween-with-sheet-music