Are you ready to take your guitar playing skills to the next level? With so many different apps and online resources available, it can be difficult deciding which ones are right for you. This blog post will provide a thorough review of some of the best apps currently on the market that can help you learn how to play guitar – from getting started with fundamentals like chords and scales, to advanced techniques like improvising solos and looping. Whether you're an aspiring beginner or already proficient musician, these tools can help get your jam session off on the right foot!
Is Guitar Easy to Learn?
Guitar is relatively easy to learn because it only has 6 strings, and most of the techniques used are simple. Additionally, chords are easy to learn, and they form the foundation of nearly all songs. With a few months of practice, even beginners can start playing basic melodies and progressions.
Several apps offer interactive tutorials that teach the basics of playing the instrument, and more advanced techniques such as scales and chords. These apps provide step-by-step instructions on how to play a song from beginning to end, allowing even beginners to start strumming away in no time. Additionally, many of these apps include helpful features such as built-in tuners and metronomes which can help keep your tempo steady while you practice. With these tools, anyone can become an expert guitarist with just a few months of dedicated practice!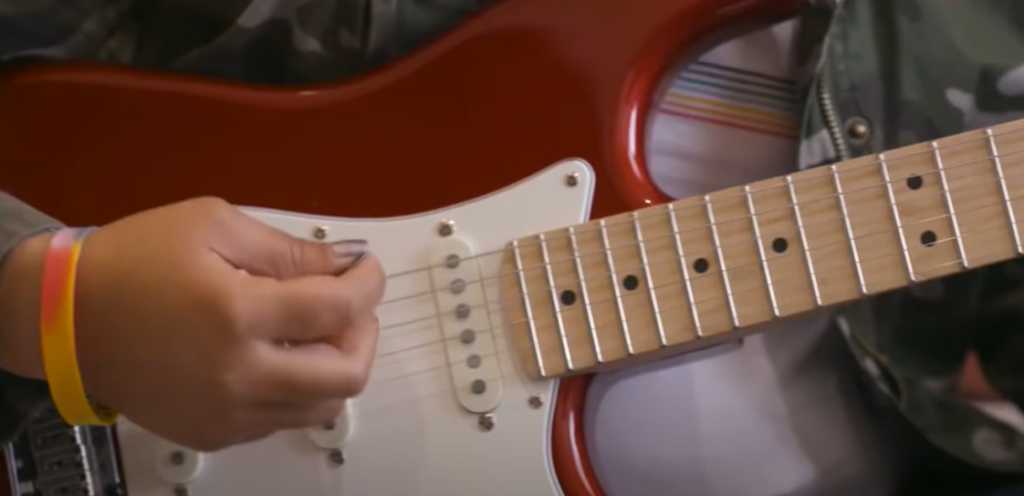 What Is The Best Way To Learn Guitar?
There are many different ways to learn guitar. Some people prefer the traditional method of taking lessons from a private tutor, while others opt for more modern methods such as learning online or through apps. With the right tools and resources, you can become a great guitarist in no time!
The best way to learn guitar is to find an approach that works best for your individual needs. Everyone learns differently, so try out several methods before settling on one. Whether you choose online classes, video tutorials, or physical books and DVDs, make sure it's something you're comfortable with and willing to commit to long-term.
Apps have become increasingly popular among aspiring musicians due to their convenience and affordability. There are countless apps available that aim to make learning guitar easier. Some provide step-by-step lessons, while others provide interactive tools like virtual fretboards and chord libraries. Most apps also feature audio examples of songs, so you can hear how a piece should be played before trying it yourself.
Best Apps to Learn Guitar
Guitar Tricks
Guitar Tricks is one of the most popular guitar learning apps on the market. It offers a comprehensive library of over 11,000 lessons from professional instructors, covering a wide range of styles including rock, blues, jazz and folk. The app also features an automatic practice planner which helps you track your progress and achievements as you learn to play. Additionally, there's an interactive forum where users can ask questions and get advice from other guitarists.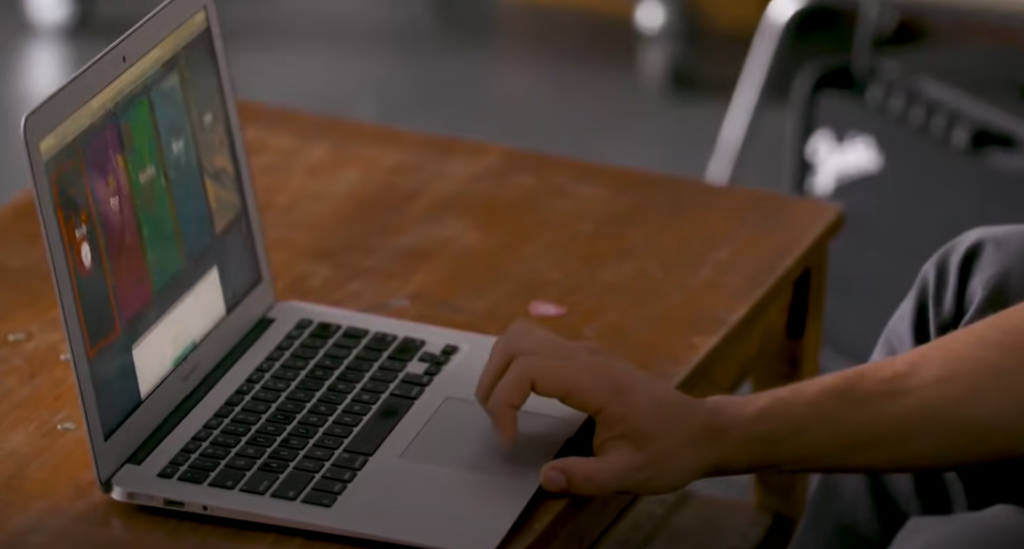 Jamorama
Jamorama is a great app for those just starting out with guitar. It offers over 250 lessons covering chords, scales and strumming patterns as well as interactive quizzes and practice sessions to help solidify your basics. Jamorama also includes jam tracks, which you can use to practice improvising with other musicians or combine with on-screen tablature diagrams to learn new songs quickly. [1]
Jellynote
It is an app that makes learning guitar fun and easy. It provides access to over 400,000 sheet music notes, tabs, chord diagrams and other resources. You can search for specific songs or browse the huge catalog of free content like tutorials, play-alongs and backing tracks. There are also lessons from experienced instructors to help you get the most out of your practice sessions. Finally, the app has a built-in metronome so you can stay on beat while playing along with your favorite tunes. If you're looking for an intuitive and comprehensive way to learn guitar, Jellynote is definitely worth checking out.
Fender Play
Fender Play is another great app for learning guitar. It offers a comprehensive system of lessons, exercises and quizzes to help you master different techniques. The app also has an interactive chord library which displays the chords in both animation and tab form, so you can quickly learn any chord. Additionally, Fender Play offers video lessons from experienced instructors who can break down concepts into easy-to-understand chunks. Finally, it includes practice tools like jam tracks and speed trainers to keep you motivated and improve your playing skills in record time.
Guitar Pro
Guitar Pro is a powerful, full-featured app for learning guitar. It has over 2000 interactive lessons and includes a digital tuner, metronome and recorder. The app also features an extensive library of tabs from popular songs and backing tracks to play along with. With Guitar Pro you can slow down sections of music so you can learn complex solos or practice tricky chords at your own pace. Finally, the app contains dozens of effects pedals that replicate real-world sounds to give your music a professional touch. If you're serious about becoming a great guitarist then Guitar Pro should be one of the first apps you download. [2]
Truefire
Truefire is a comprehensive app for learning guitar that offers access to over 500 lessons from more than 30 instructors. The lessons are organized into different skill levels so you can move through the curriculum as you progress. Truefire also has an audio-to-tab feature which allows you to upload any song and get a tab of it in less than 10 minutes. This is great for jamming along with your favorite tunes or seeing how to play sections of songs you're trying to master. Finally, the app includes tools like chord charts, scale visualizers and metronome practice routines that will take your playing skills to the next level.
JamPlay
JamPlay is another great app for learning guitar. It includes over 5000 lessons with tabs and backing tracks as well as video lessons from experienced instructors. The app also features a song library which allows you to search and learn songs quickly and easily. Additionally, JamPlay has a built-in recorder so you can capture your playing sessions and share them on social media. Finally, the app comes with a virtual tuner which will help you tune your guitar accurately in no time. If you're looking for an easy way to master guitar basics then JamPlay is definitely worth checking out.
Ultimate Guitar: Chords and Tabs
Ultimate Guitar: Chords and Tabs is the perfect app for beginner guitarists. It features a huge library of chords, tabs and lyrics from over 400,000 songs so you can quickly learn your favorite tunes. The app also has an interactive chord library which will show you exactly how to play any chord with just one click. Additionally, Ultimate Guitar: Chords and Tabs includes tools like a metronome and scale visualizer to help you stay on beat while practicing your skills. Finally, it has a built-in recorder so you can record your playing sessions and share them online. If you're just starting out on guitar then this app is essential for learning the basics quickly.
Chordbank
Chordbank is an app designed specifically for guitarists, making it one of the best apps to learn guitar available. With a library of over 1,000 chords and scales, along with access to lessons and tutorials from professional guitarists, the app provides a comprehensive resource for beginners and experienced players alike. It has a simple interface that makes it easy to find the right chords and scales without getting overwhelmed. The app also offers practice mode, allowing users to test their knowledge and track their progress as they learn. Chordbank is also compatible with MIDI devices, which can be used to record audio directly into the app or connect your guitar directly with your computer or mobile device.
Yousician
Yousician is a comprehensive guitar learning app that uses interactive lessons and games to teach users the basics of chord progressions, scales and melodies. The app offers step-by-step tutorials with detailed explanations and diagrams to help users understand how chords are formed. It also has practice mode, which provides feedback on technique and accuracy to help users improve their playing. Additionally, Yousician offers an online community forum where users can connect with other guitarists, providing support and helpful tips along the way.
Justin Guitar
Justin Guitar is a popular online guitar learning platform created by guitar instructor Justin Sandercoe. The app provides access to hundreds of lessons, with video and audio guidance provided for each lesson. It also includes interactive tools such as chord charts, scales and arpeggios, along with a library of songs for users to practice playing along to. Additionally, the app offers jam tracks and backing tracks that can be used for soloing or improvisation. [3]
Amplitube
Amplitube is a powerful guitar learning app for iOS and Android devices. It features interactive lessons and tutorials, along with an extensive library of songs from various musical genres to practice playing along to. The app also includes amp modeling and distortion effects, allowing users to experiment with different sounds while they play. Additionally, Amplitube has the ability to record audio directly into the app, making it easier than ever to capture your own guitar playing.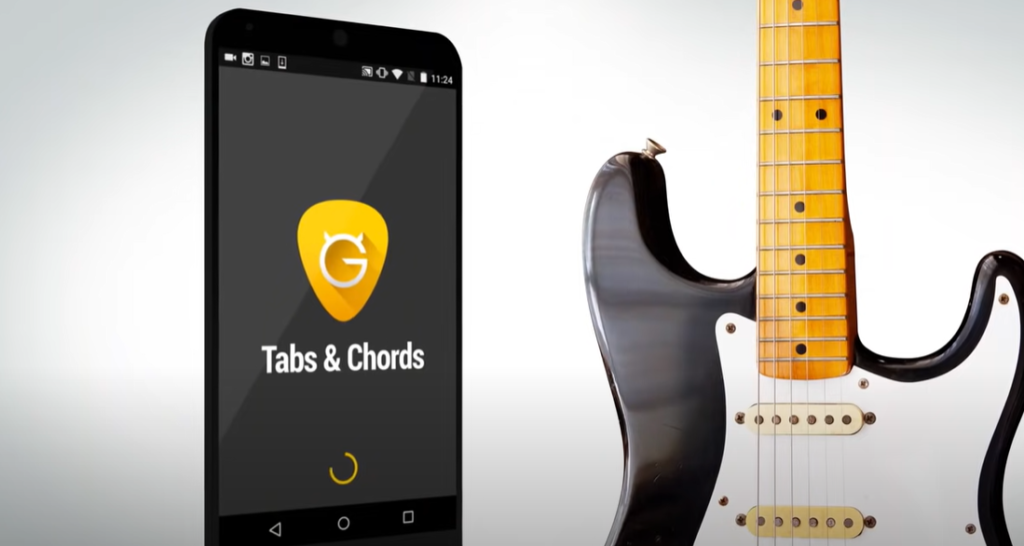 ArtistWorks
It is one of the best apps to learn guitar. It offers a wide range of video lessons with world-renowned teachers like Guthrie Trapp, Paul Gilbert and more. The app also has all kinds of tools that can help you become a better guitarist like backing tracks and jam stations. ArtistWorks' interactive platform allows you to ask questions in real time, get feedback from your teachers, and even submit your playing for review so that you can get personalized advice. With ArtistWorks library of over 1,000 videos sorted by skill level and style of play, you're sure to find something that fits your needs. Plus their subscription plans are flexible enough for any budget!
Songsterr
If you're more of a visual learner, Songsterr is the app for you. It's an interactive tab and notation software that includes over 800,000 tabs from some of the most popular songs around. Not only will it teach you how to play specific songs but also provides detailed audio recordings so you can hear exactly what each section should sound like. The app also allows you to watch tablature animations which are great for understanding timing and note placement. Plus there are built-in features such as metronome and chord diagrams that make learning even easier! With Songsterr, your guitar skills will be sure to improve in no time! [4]
Guitar Tricks
Guitar Tricks is another great app for learning guitar. It features over 11,000 video lessons covering a wide variety of topics including chords, scales, strumming patterns and more. Even if you're an absolute beginner, the app has everything you need to get started. Plus their interactive platform allows you to ask questions and get feedback from your instructors in real time so that you can make sure that you understand all the material. With Guitar Tricks' library of over 500 hours of content sorted by skill level, it's the perfect tool for any guitarist who wants to take their playing to the next level.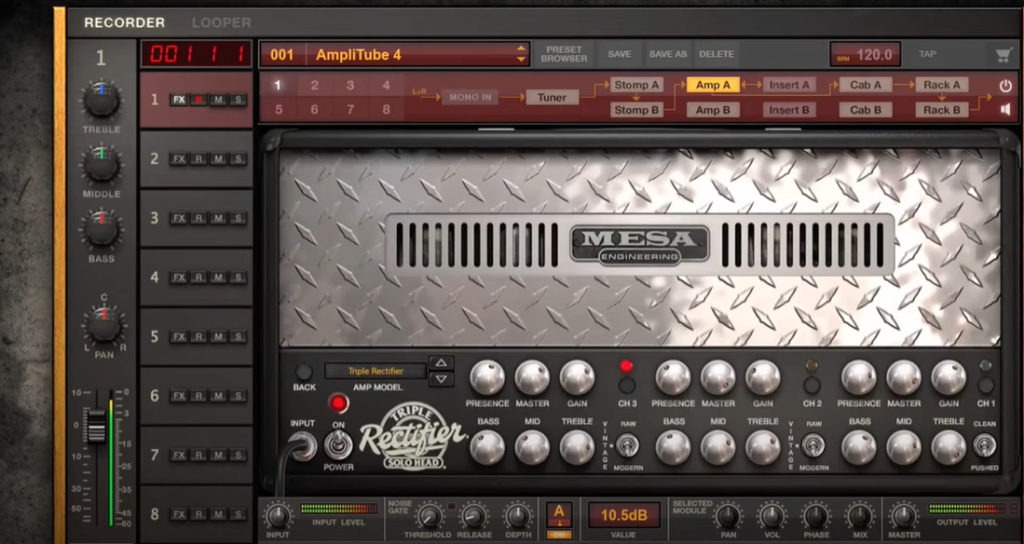 How Do I Choose Which Guitar App to Use?
When it comes to learning guitar using apps, there are many options to choose from. As you are probably aware, different apps offer different levels of difficulty and content. Therefore, it is important to choose an app that will best suit your learning needs, playing level and musical style.
The first thing you should consider when choosing a guitar app is the type of learner you are. Are you a visual learner who prefers to watch video tutorials? Or do you prefer books or written instructions? Different apps provide different types of teaching methods so be sure to select one that suits your individual learning style.
Another factor to consider when choosing an app for guitar lessons is the amount of material covered in the program or course. Some apps only provide basic guitar lessons while others offer more advanced content. Also, make sure to check the app's ratings and reviews from other users as this can be a good way to determine the quality of the content.
Finally, consider your budget when choosing an app for guitar lessons. Some apps are free or available at discounted prices with limited features, while more robust programs may cost more but offer more in-depth instruction.
Ultimately, it is important to take into account all factors when selecting a guitar learning app so you can get the most out of your experience and improve your skills as quickly as possible. [5]
What Are Some Other Ways to Learn Guitar?
Aside from apps, there are a few other ways to learn guitar. Self-teaching is an option that many beginners choose because it allows you to progress at your own pace and on your own terms. You can find online lessons, books, video tutorials and more that can help guide you along the way.
Additionally, taking classes with a local teacher or attending workshops hosted by experienced guitarists can be great learning opportunities as well.
Lastly, the best way to learn any instrument is through practice—so don't forget to pick up that guitar every day! With dedication and hard work, you'll be playing songs in no time at all.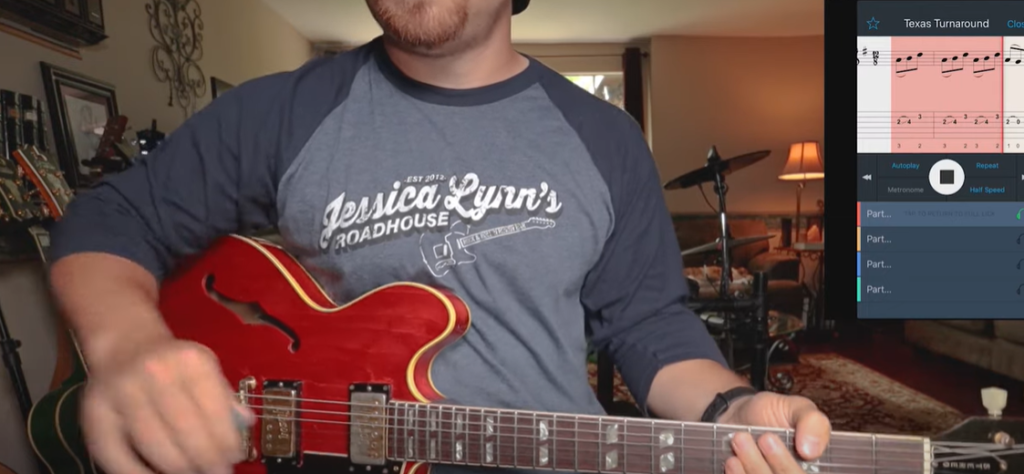 Is It Possible to Learn Guitar Through an App?
Yes, it is possible to learn guitar through an app. There are a number of apps available that offer comprehensive lessons and tutorials on how to play the instrument. The best guitar learning apps provide users with interactive tools such as chord diagrams, audio recordings, note maps, practice drills and more. By using these tools in combination with one's own dedication and determination, someone can easily become proficient at playing the guitar.
In conclusion, it is possible to learn guitar through an app provided that the user has access to the right resources and tools. With dedication and perseverance, anyone can pick up this beloved instrument with ease. There are numerous exceptional apps available today that offer comprehensive lessons, tutorials and feedback features so that users can maximize their learning experience while having fun along the way. Get started today with one of these apps and begin your musical journey!
Benefits of Using Guitar Learning Apps
Suitable for Travelers
Are you always on the go and don't have a lot of time to devote to learning guitar? Guitar learning apps are perfect for travelers who can easily access them while they're on-the-go, making it easier than ever before to pick up an instrument.
Easy Accessibility
Guitar learning apps offer users the convenience of having their lessons right at their fingertips, so they can practice any time and anywhere. There's no need to worry about finding a physical instructor or setting aside specific times for lessons; all you need is your phone or tablet and you're good to go!
Personalized Learning Experiences
Many guitar learning apps provide personalized experiences based on each user's individual goals and preferences. This means that users can customize their own learning journey, ensuring they get the most out of every lesson.
Affordability
Using guitar learning apps is much more budget-friendly than hiring a private tutor or signing up for lessons at a music school. Most apps offer free trials and discounted rates, making them accessible to everyone regardless of their financial situation.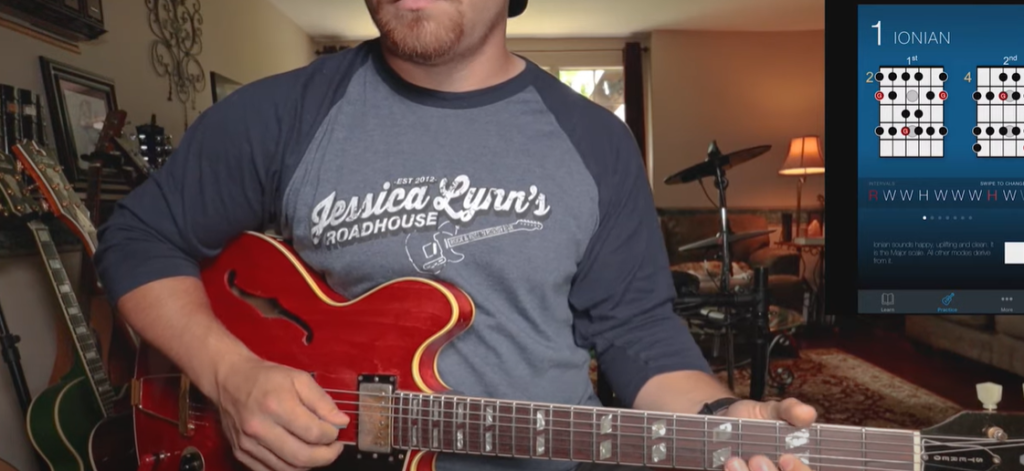 Play at Your Own Pace
Guitar learning apps allow users to learn at their own pace, without the pressure of having to keep up with others in a class setting. This makes it much easier to develop your skills and master complex chords and techniques without feeling intimidated or rushed. [6]
Game-like Experiences
Many guitar learning apps have gamified elements that make learning fun and engaging. From quizzes to leaderboards, these features give users an incentive to keep practicing and challenging themselves as they progress through their lessons.
Supportive Communities
In addition to providing comprehensive course materials, many guitar learning apps also offer access to vibrant online communities full of like-minded learners. Here, users can share tips, ask questions, and provide moral support for one another, creating a supportive and encouraging learning environment.
Overall, guitar learning apps offer a convenient and affordable way for anyone to start learning the instrument. With their easy accessibility, personalized experiences, and game-like elements, these apps make it easier than ever before to pick up the guitar and progress at your own pace. So if you want to learn to play the guitar without breaking the bank or committing to regular lessons, consider giving one of these apps a try!
Features of the Guitar Learning App
The best apps to learn guitar feature a variety of features that make the learning process easier and more enjoyable. These features include:
Interactive lessons: The app should offer interactive lessons that you can access anywhere, anytime. This includes detailed instructions on how to play specific chords and songs as well as audio clips so you can hear how it should sound.
Chord library: A good guitar learning app should include a comprehensive chord library with images and diagrams of every chord shape for easy reference. It should also feature different fingerings for each chord so you can find the one that works best for you.
Jam tracks and backing tracks: Most guitar learning apps come with jam tracks or backing tracks which provide an accompaniment for you to practice with. This is a great way to add some musical context to your learning and help you get used to playing along with other musicians.
Practice tools: A good guitar app should include practice tools such as metronomes, tuners and recorders so that you can keep track of your progress and work on specific techniques or speed up your playing.
Accessibility: The app should also be easy to use and navigate, with clear instructions and intuitive menus so that everyone from complete beginners to experienced players can make the most of it.
Progress tracking: A good guitar learning app should also have a way for you to track your progress, whether it's recording the number of hours you've practiced or logging how many chords you've learned. This makes it easier for you to set goals and measure your progress over time.
Community features: Good guitar apps will often include community features such as forums or chat rooms where players can connect with each other, ask questions and share tips on playing techniques.
These can be great resources if you ever get stuck on something or need encouragement from other guitarists. By connecting with fellow players, you can form a supportive network and make learning the instrument much more enjoyable.
Whether you're a complete beginner or an experienced player, these features should give you an idea of what to look for in a good guitar learning app. With the right tools, you can go from strumming your first chords to playing entire songs in no time! [7]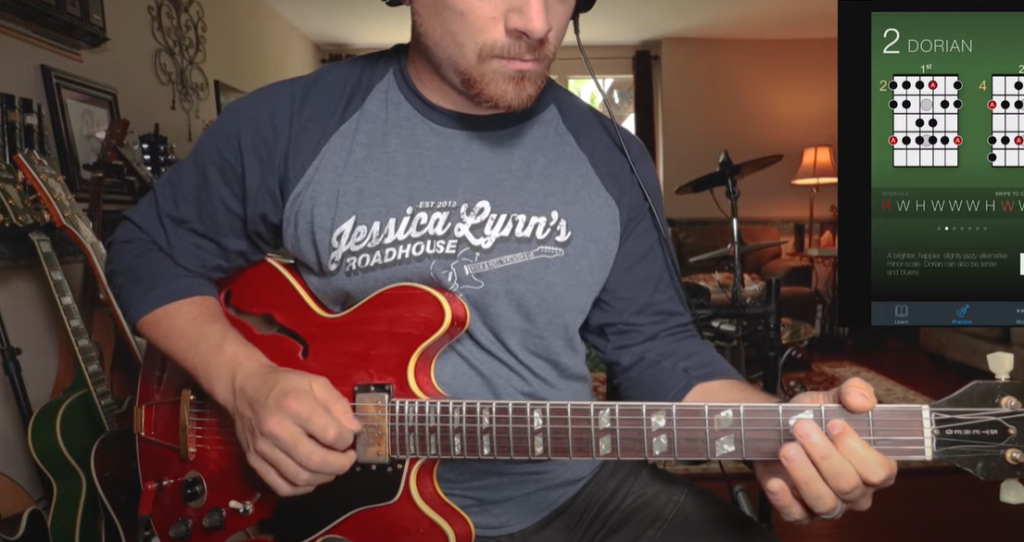 Things Not to Do When Learning to Play Guitar
One of the biggest mistakes that many guitarists make when they are starting out is not taking enough time to practice and develop their skills. While it is important to use the best apps available to learn guitar, it's also important not to rush yourself or expect too much too soon.
Here are a few tips on what not to do when learning to play guitar:
Don't expect quick results – Learning an instrument takes time and dedication. Be patient with yourself and don't expect instant success or perfect technique overnight. It can take weeks or even months before you start feeling comfortable playing new songs or techniques.
Don't forget about fundamentals – Before diving into complicated pieces, focus on building strong fundamentals like proper posture, finger placement, and accuracy. Make sure to practice basic concepts like scales and chords until you feel confident in playing them correctly.
Don't limit yourself – While using the best apps to learn guitar can be helpful, don't forget about other resources such as books and videos for learning more advanced techniques. Utilizing a variety of materials will give you access to new perspectives on learning the instrument.
Don't neglect technique – Technique is essential for developing speed and accuracy when playing guitar, so make sure to take time each day to practice proper fingering patterns and develop your hand coordination. It may seem tedious at times but it pays off in the long run!
Don't give up – Learning the guitar can be a challenging process, so don't get discouraged if you hit roadblocks. Take breaks when needed and keep reminding yourself of why you wanted to start playing in the first place! With enough practice and patience, you'll eventually start seeing results from all your hard work.
By following these tips, you'll be well on your way to becoming an expert guitarist in no time! So grab your instrument, fire up those apps for learning guitar, and get ready to rock!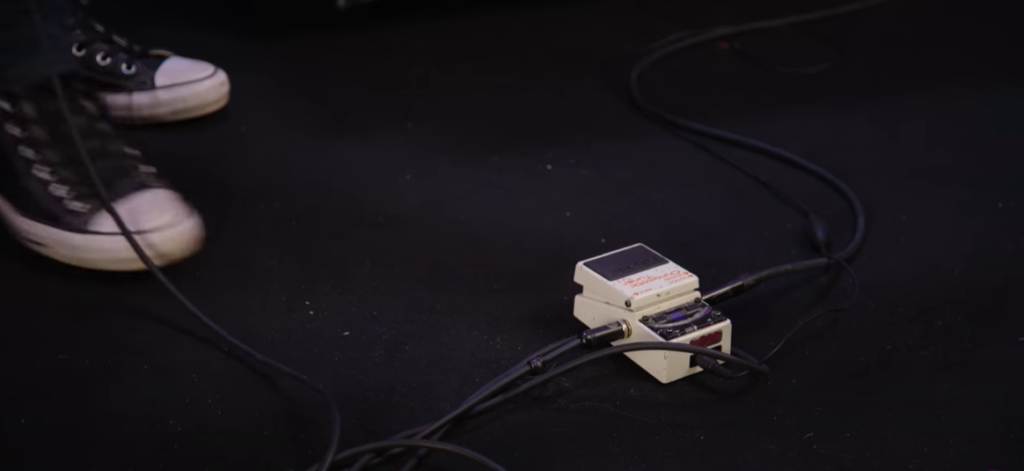 Is Guitar Healthy for Your Brain?
Learning to play the guitar has many benefits for both physical and mental health. It can help with stress relief, increase hand-eye coordination, improve memory and even reduce cases of depression. Playing the guitar also requires a person to use different parts of their brain simultaneously—improving overall cognitive function. Additionally, playing an instrument boosts creativity, releases feel-good hormones such as dopamine, and allows one to express themselves without words in a more meaningful way.
The best apps to learn guitar take advantage of all these aspects by providing interactive lessons and complete tutorials that are designed to be fun and educational at the same time. With tips from experienced guitarists and music educators, these apps make it easy for anyone—from beginners to experts—to improve their guitar playing skills. They also provide a wealth of resources and materials to help users expand their knowledge of different styles and techniques, as well as offering tips on how to play with better accuracy, speed, and precision.
From mobile apps that teach chords and easy-to-follow tutorials, to educational videos and audio recordings—there are several options available for those looking to learn guitar. These apps can be used by anyone regardless of age or skill level. So if you're looking for the best way to get started on your journey towards becoming a guitarist—try out one of these great learning apps today! You could be on your way to mastering the art of the six-string in no time!
How to Choose a Guitar?
Choosing the right guitar is an important step in learning how to play. It's essential that you have a quality instrument which will provide good sound and be comfortable to play. The most common type of guitar is the acoustic guitar, but there are many other types such as electric, classical and bass.
When choosing a guitar there are several factors to consider including size and shape, strings, sound quality and cost. Size and shape refer to the body size and neck length. Guitar bodies come in a variety of sizes from mini-guitars for beginners up to large dreadnought guitars for experienced players. Neck length also varies from short scale guitars for smaller hands to full scale guitars with longer necks.
Strings also come in various types and sizes. Steel strings are the most popular for acoustic guitars, while nylon is more often used for classical guitars. Electric guitars typically feature steel strings topped with a winding of bronze or nickel.
Finally, cost should also be considered when choosing a guitar. Budget-friendly options are available in all categories, but higher-end instruments tend to be made better and provide better sound quality. Consider your budget carefully and shop around for the best deal.
Whatever type of guitar you choose, it's important to select an instrument that is comfortable to play and has good sound quality. With the right guitar and a good practice routine, you can be playing your favorite tunes in no time! [8]
FAQ
What is the best app to play guitar for beginners?
If you're a beginner looking to learn how to play guitar, the best app to do so is Yousician. With over 3 million users, Yousician is designed for all levels of players – from novice to experienced. The app provides an interactive and comprehensive guide through lessons, tutorials and song tutorials as well as a comprehensive library of songs for you to practice on. You can also use it in real time with your guitar or bass connected via Bluetooth or cable.
What are the benefits of using mobile apps to learn guitar?
Using mobile apps gives you the flexibility to learn whenever and wherever you want. The convenience factor means that you don't have to wait until there's free time in your schedule or find the right music teacher. With an app, you can choose when and where to learn at your own pace. Additionally, apps like Yousician have built-in gamification elements that make learning guitar more engaging and entertaining. You can also track your progress and receive detailed feedback about what techniques you should focus on to improve your playing.
How much does it cost to use mobile apps for learning guitar?
The cost of using mobile apps for learning guitar varies from app to app but most offer free versions with additional premium features available for a fee. Yousician offers a free trial so you can explore their various features before deciding if it's right for you. Ultimately, the best way to decide which app is best for your needs is to try out a few before deciding which one works best for you.
Can I use mobile apps to learn guitar without an instrument?
Yes, many apps provide virtual instruments that allow you to learn guitar without needing an actual instrument. Yousician has a built-in virtual guitar so you can practice and apply what you've learned in their lessons. Other apps such as SimplyGuitar also offer virtual instruments and backing tracks so you can practice without having to have your own guitar handy.
Are there any other benefits of using mobile apps for learning guitar?
Aside from the convenience factor and gamified elements, using mobile apps gives users access to expert advice and guidance whenever they need it. Most apps offer interactive lessons and tutorials as well as feedback on how to improve your playing. Additionally, many apps allow users to connect with other guitarists so that you can learn from their experiences and find new inspiration for your own practice sessions. Overall, using mobile apps for learning guitar is an excellent way to quickly get up and running with the instrument. With a range of different features available – from virtual instruments to expert guidance – there's something for everyone no matter what level they're at.
Is Yousician really free?
No, Yousician is not completely free. It does offer a seven-day free trial so you can try out the app before committing to a subscription plan. After your free trial ends, you'll need to pay for one of their three subscription plans in order to continue using the app: Basic, Premium and Ultimate. The Basic plan costs $9.99 per month, the Premium plan costs $19.99 per month, and the Ultimate plan costs $29.99 per month. All plans come with access to lesson content and game challenges designed to help improve your playing skills. The higher membership plans provide additional features such as personalized feedback from guitar instructors and unlimited song requests among other things. Yousician also offers a yearly subscription plan with discounted rates compared to monthly payments. Yousician is an excellent app, and the free trial allows you to test it out before investing in one of the paid plans. The various plans available make it easy for guitarists of all skill levels to find one that fits their budget and needs.
Can I self teach guitar?
Yes, you absolutely can self-teach guitar. With the right resources and dedication, it is possible to learn how to play the guitar without ever taking a lesson from an instructor or attending a class. The best way to go about teaching yourself guitar is by utilizing online resources like websites, apps, and video tutorials. There are many great apps available that can help teach you how to play guitar such as Yousician, GuitarTuna, Fender Play and ChordBank. These apps provide step-by-step lessons for beginners as well as advanced techniques for more experienced players. They also offer interactive tools like tuners, metronomes and audio recordings so you can practice and track your progress. Additionally, these apps often offer quizzes and practice drills to help you reinforce the material and keep you motivated. With their help, you can learn how to play guitar in no time!
Can I learn guitar in 2 months?
Yes, it is possible to learn guitar in two months as long as you have the dedication and discipline necessary. You should start by downloading one of the aforementioned apps and use their step-by-step lessons to familiarize yourself with the basics. Make sure to spend at least a few hours each day practicing and honing your skills. If possible, try playing songs that interest you so that you stay motivated and engaged in your learning process. Over time, you will develop muscle memory which will make playing easier and more enjoyable. With hard work and perseverance, you can achieve great results in just two months!
Is it OK to learn electric guitar first?
Yes, it is perfectly acceptable to learn electric guitar first. Electric guitars are typically the most popular type of guitar and can be used in a variety of genres from rock, pop, jazz, blues, and more. The abundance of resources available for electric guitar makes it relatively easy to learn. Additionally, as an electric guitar player you will be able to join bands and form groups with ease. However, if you want to learn acoustic guitar as well, there are plenty of resources available for that too! No matter what style or type of guitar you choose to learn, the key is practice and patience.
How many hours does it take to master guitar?
It is difficult to say how many hours it takes to master guitar, as everyone learns and progresses at different speeds. It also depends on the style of music you are playing, the complexity of the songs you are learning, and your individual skill level. Generally speaking however, if one dedicates a few hours each day practicing and playing guitar, they can become proficient in about 1-2 years. To master guitar will likely take longer than that though as there is always room for improvement and honing of technique.
Useful Video: Top 5 Free Apps for Guitarists
Conclusion
Guitar learning apps are an effective and efficient way to learn guitar. With the right app, you can play songs, practice chords, understand musical theory and even take lessons from professionals – all at your own pace. Whether you're looking for a comprehensive course with videos or just an interactive chord library, one of these apps will help you on your journey to becoming a competent guitarist. Ultimately, by taking advantage of the many resources available on the internet today, you can become an experienced guitar player in no time!
References:
https://guitar.com/guides/buyers-guide/best-guitar-learning-apps/
https://play-guitars.com/best-apps-for-learning-guitar/
https://geekflare.com/best-guitar-learning-apps/
https://www.makeuseof.com/tag/5-free-apps-learn-play-guitar-android/
https://www.musicindustryhowto.com/best-apps-for-learning-guitar/
https://acousticguitar.com/the-best-websites-and-apps-for-learning-guitar/
https://yousician.com/blog/guitar-app
https://firstguitar.com/resources/how-to-choose-the-right-guitar/