Learning to play the guitar can be a daunting task, and with so many styles and genres to choose from, it can be hard to know where exactly to start. If you're looking for an exciting introduction into the world of guitars that is both accessible yet offers unlimited potential for development then Flamenco guitar might just be perfect for you! With its unique blend of passion-filled strums, lyrical melodies and intricately played scales accompanied by a percussive click known as golpe, learning flamenco guitar will open up an entire new way of playing and expressing yourself on-stage or in your own home. In this blog post we will explore what makes flamenco such an attractive style and offer some easy pieces that would make great starter songs for anyone tempted by this wonderful art form.
Easy Flamenco Guitar Songs
1 Hips Don't Lie – Shakira
This upbeat and popular song is a great way to get started with Flamenco guitar. It has an easy rhythm and the chords are relatively simple, making it an ideal starting point for any aspiring flamenco guitarist.
2 Vivir Mi Vida – Marc Anthony
This is a great song for beginner flamenco guitarists because it has a simple chord progression. The song follows an A-B-A pattern, where the B section is just a single Am chord. This makes it easy to learn and play along with. The strumming pattern of this song also adds to its simplicity and makes it ideal for beginners. As the chorus progresses, you can add in more complex rhythms and progressions to make it sound more professional. With some practice, you will soon be playing 'Vivir Mi Vida' like a pro! [1]
3 Sofia – Alvaro Soler
This is a great song for intermediate flamenco guitarists. It has an A-B-A pattern, but each section of the song gets increasingly complicated. The B section introduces more complex chords and rhythms. Additionally, there are some quick arpeggio runs thrown in to make it sound even more professional. The chorus is slightly faster than the verse and gives you an opportunity to show off your shredding skills.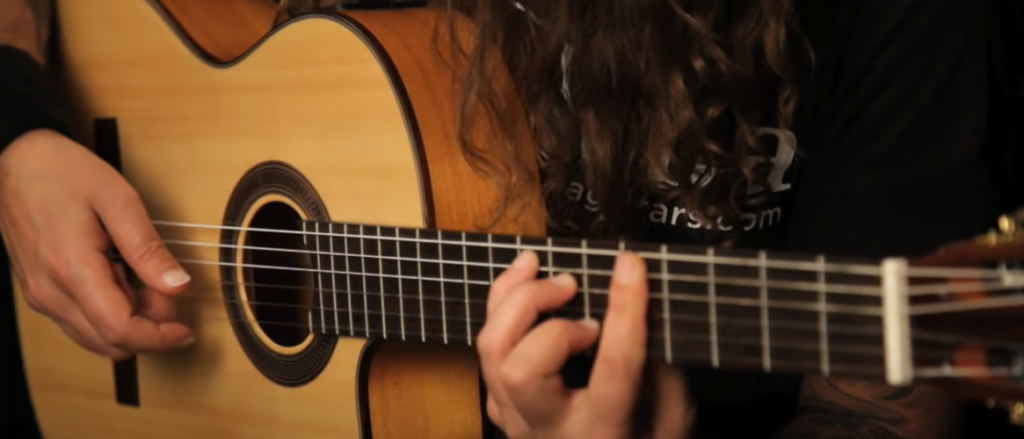 4 La Tortura – Shakira feat. Alejandro Sanz
This popular Spanish-language hit song is a great place to start when learning Flamenco guitar. It's easy to play and the chords are simple. The song uses just three chords: Fmaj7, C7, and Dm7. As you learn La Tortura, practice repeating each chord progression several times until you're comfortable with it. Once you have a good handle on the basic structure of the song, experiment with changing up your fingerings or playing it in different styles (like adding a little bit of improvisation).
5 Disfruto – Carla Morrison
This is a great song to practice when you're just getting familiar with Flamenco guitar. The chords are straightforward and the rhythm is easy to pick up. It uses just two chords: Am7 and Fmaj7. As with any Flamenco tune, once you can play it in time, start adding your own variations or improvisations here and there. [2]
6 Amor Prohibido – Selena
This classic Tejano song is perfect for learning Flamenco guitar. It uses two chords: C7 and Fmaj7, and the rhythm is easy to master with a little bit of practice. You can focus on getting the basic chord pattern down first and then add in some improvisation as you become more comfortable with it.
7 Ojos Color Sol – Calle 13 feat. Silvio Rodriguez
This lively flamenco tune is sure to get your toes tapping! Featuring an infectious rhythm, Ojos Color Sol is a great song for both beginning and advanced guitarists alike. The main riff utilizes the popular 1-5-6 progression combined with some hammer-ons and pull offs that can easily be mastered with a little practice. Silvio Rodriguez provides an exquisite flamenco vocal performance that adds another layer of depth to this already fantastic Latin track.
8 Saturno – Pablo Alboran
This melancholic song from Pablo Alboran is a great way to practice your flamenco techniques. The verse uses a common flamenco strumming pattern with some subtle fingerpicking for the chorus. This track has a unique atmosphere that will transport you to another world as you learn its intricate patterns and melodies.
9 Despecha – Rosalia
This upbeat track from Rosalia is sure to get you moving! Featuring a combination of traditional flamenco guitar techniques and modern production, Despecha has all the ingredients for an unforgettable listening experience. The rhythmic syncopation and intricate fingerpicking will test your skills as a guitarist while giving you a great opportunity to practice your flamenco chops. [3]
10 Entra En Mi Vida – Sin Bandera
This classic Spanish-language song by Mexican pop duo Sin Bandera is a great way to practice your flamenco guitar skills. It's upbeat and has some fast fingerpicking that you can use to really hone in on those techniques. Play around with the melody and chords, since it gives plenty of room for improvisation if you feel like getting creative! Once you've got the basics down, try adding an extra verse or chorus in between the original parts.
11 Me Gustas Tu – Manu Chao
This latin-inspired track from Manu Chao is a great way to practice your flamenco guitar chops. It's got some fun syncopated rhythms and fast fingerpicking that you can really use to show off what you know. If you're feeling adventurous, try adding an extra verse or chorus in between the original parts—this will give it a whole new feel! Plus, this song is sure to get people up on their feet at any party.
12 La Macarena – Los Del Rio
This Spanish classic is the perfect way to practice your flamenco guitar skills. With its upbeat rhythm and catchy lyrics, it's sure to get people up on their feet! Don't be afraid to switch up the tempo or add some extra flourishes. You can also take it a step further by adding an extra verse or chorus in between the original parts. [4]
13 Obsession – Aventura
This classic Latin song is perfect for beginners and experienced flamenco guitar players alike. The fast-paced and upbeat tempo makes it an easy favorite to learn, and its rhythmic patterns are very simple to play with a few chords. With some practice, you can master the song in no time! Not only that, but this song is sure to get people dancing before you even finish the first chorus.
14 Amor Eterno – Rocio Durcal
This classic Spanish love song is a great choice for flamenco guitarists of any experience level. The opening verse starts off slow and mellow, but then builds up to a more intense chorus section that is perfect for playing fast-paced rhythms. Even if you don't know the words, you can still easily feel the emotion in every single note of this beautiful song.
15 Rayando El Sol – Maná
This up-tempo rock song is one of the most popular in Latin America, and is a great choice for flamenco guitar players. With its catchy chorus and driving rhythms, this song can easily be turned into an exciting flamenco performance. It's also relatively easy to learn, making it perfect for beginner guitarists who want to impress their audience with some great flamenco playing.
16 El Condor Pasa – Simon & Garfunkel
This Spanish-influenced song by Simon & Garfunkel is perfect for Flamenco guitarists. The iconic melody and simple chords make it easy to play. Beginners will have no trouble learning the basic chords of Am, F, C, G, A7 and Dm in this piece. Whether you choose to add complex ornaments to the tune or keep it simple with a few strums, El Condor Pasa will sound great on the Flamenco guitar!
17 Nada Valgo Sin Tu Amor – Juanes
This Latin pop classic is a great choice for aspiring Flamenco guitarists. Juanes' signature sound combines the traditional elements of Flamenco with modern rhythms and chord progressions. Its catchy melody, easy-to-play chords and rhythmic patterns make it ideal for developing your skills on the instrument. Learning this song will give you an invaluable insight into how to combine traditional and modern sounds in your own compositions. [5]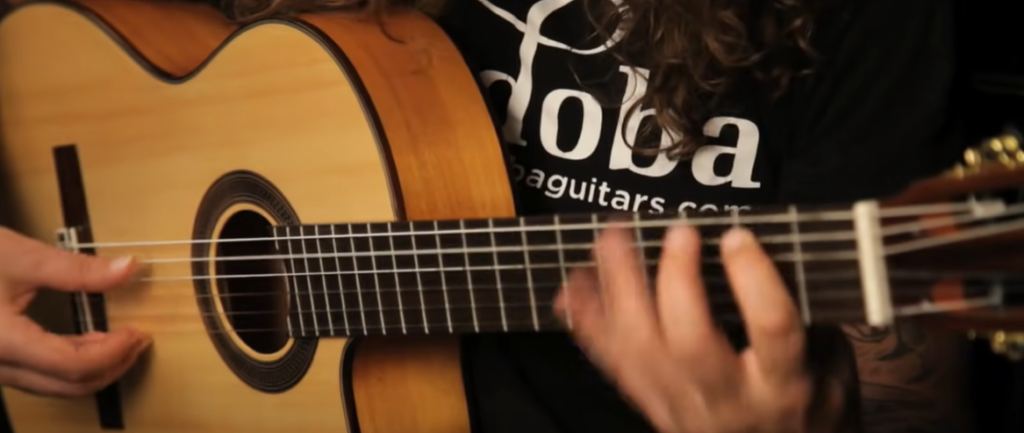 18 Te Amo – Franco de Vita
This uplifting ballad by Venezuelan singer/songwriter Franco de Vita is perfect for aspiring Flamenco guitarists. Its catchy melody, easy-to-play chords and rhythmic patterns are simple enough for beginners to pick up quickly. The song's upbeat tempo will also help you improve your strumming technique. If you're looking for an enjoyable challenge, this one is a great choice!
19 Que Ha Pasao – Abraham Mateo feat. Sofia Reyes
This flamenco-pop song is a good one for intermediate players as it has some tricky picking sequences and chord progressions. The picking pattern, which features quintuplets, can be repeated over each of the chords in the verse and chorus sections. Additionally, this song contains a guitar solo section that's perfect for developing your technique as a flamenco guitarist. You may want to break up this part into smaller chunks before you begin playing it all together. This is an upbeat and catchy tune that will surely impress your audience!
20 Bamboleo – Gipsy Kings
The signature hit of the Gipsy Kings, "Bamboleo" is a popular choice for flamenco guitarists. This song features an iconic picking pattern which can be broken down into smaller sections and practiced at slower speeds. Additionally, there are some nice harmonies during the chorus that you can add as you get more confident with your playing. Overall, this is a fun and upbeat track that will definitely liven up any gathering! [6]
What Makes Flamenco So Attractive?
Flamenco is an intriguing and captivating genre of music that has been around for centuries. Its passionate melodies, intricate rhythms, and soul-stirring expressions make it a favorite among many guitarists. Its roots lie in the folk music and dance of Andalusia in Southern Spain, but its influence has spread around the world through modern interpretations.
The allure of Flamenco lies in its unique combination of complex chords and rhythms, often played with dramatic flourishes. It's a dynamic style, with each piece starting slowly before building to frenzied intensity as the song reaches its climax. This pattern can be seen throughout traditional Flamenco performances where dancers use their arms, legs and feet to create intricate patterns and percussive sounds.
Flamenco is an exciting style of music that can take many forms, from traditional Spanish folk songs to modern interpretations of classic pieces. When learning Flamenco guitar, it's important to explore all aspects of the genre so you can find your own unique voice as an artist. With practice and dedication, you will be able to master the techniques required to put together amazing performances! So grab your guitar and get started on your Flamenco journey today!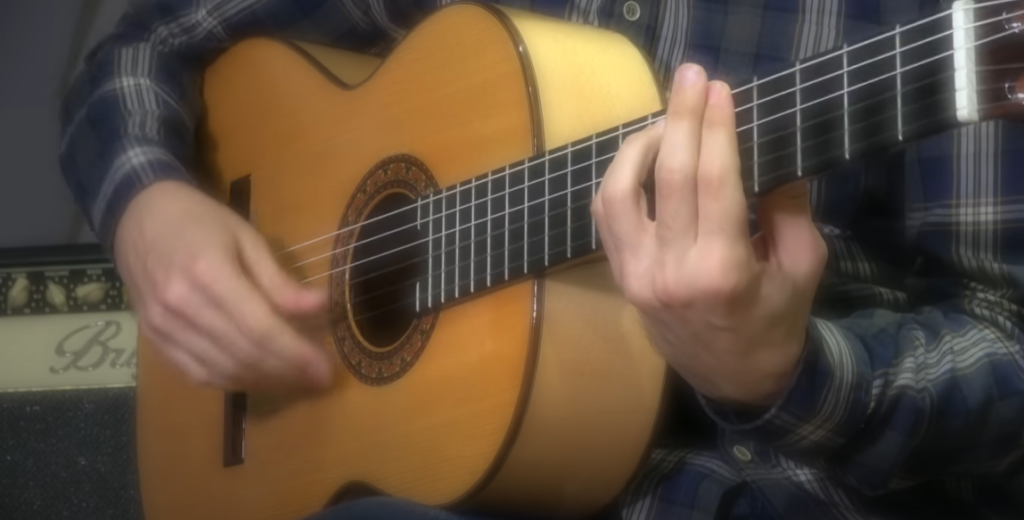 FAQ
What is the easiest Spanish song to play on guitar?
The easiest Spanish song to play on guitar is probably "Alegrías" by Paco de Lucía. It only uses four chords and the strumming pattern is quite simple – just downstrokes and occasional accents! With practice, anyone can master this classic flamenco piece.
What are the best songs for beginner flamenco guitarists?
The best songs for beginner flamenco guitarists are typically short pieces that use basic chords and strumming patterns. For example, "Farruca" by Vicente Amigo or "Jaleos" by Gerardo Núñez are great choices for those just starting out with flamenco playing. They each use just a few chords and the strumming patterns are easy to learn.
What is a good song to learn for flamenco guitarists of all levels?
"Soleá por Bulerías" by Paco de Lucía is a great song to learn for flamenco guitarists of all levels. It has enough complexity that it can be used as a challenge while still being accessible to those who have some experience with the instrument. With its intricate rasgueado patterns and tricky compás, this piece will keep you busy for quite some time!
Are there any resources available to help me get started playing flamenco guitar?
Yes! There are plenty of online tutorials, books, and videos available that can help you get started with playing flamenco guitar. A great place to start is the website "Learn Flamenco Guitar", which has all sorts of helpful lessons and information for beginner and intermediate players alike. Additionally, YouTube is full of free tutorials, so if you want to learn some new songs or techniques, it's a great resource!
Are flamenco guitars easier to play?
Yes, flamenco guitars are generally considered to be easier to play than other types of acoustic guitars. This is because they have a thinner neck profile and shorter scale length, which makes it easier for smaller hands to reach the frets and chords. Additionally, their nylon strings produce a softer sound that make it easier on the ears for beginners.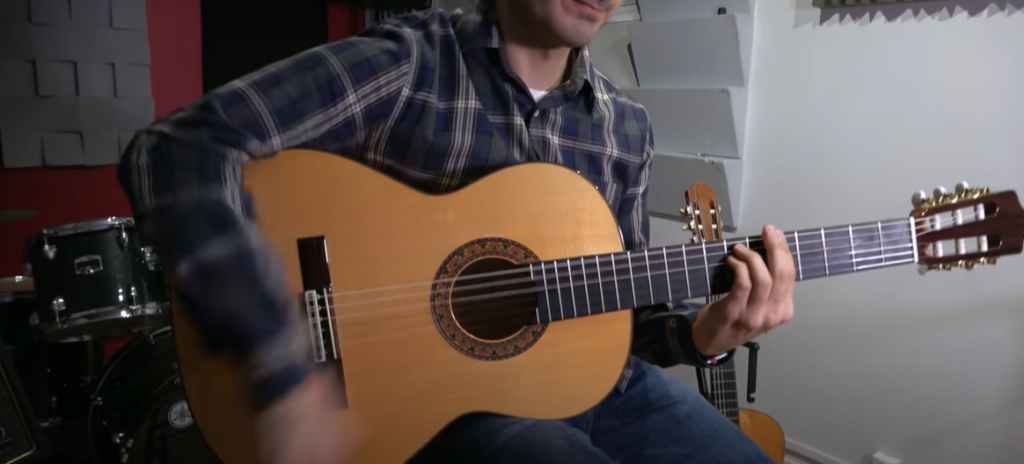 How do you play a simple flamenco guitar?
Playing a simple flamenco guitar song starts with basic chords and strumming patterns. You'll need to learn the different chords for each song, so it's important to practice your chord changes until you feel comfortable switching between them in time. When you're ready, practice the strumming pattern of the song until it sounds natural and relaxing. Keep practicing until the chord changes to sound smooth. Once you have mastered the basics of playing a simple flamenco guitar song, begin adding more complex chords and rhythms. You can add grace notes, trills and vibratos to give your songs an exciting new flavor as well as make them easier to listen to.
Additionally, start experimenting with other right hand techniques such as rake strokes and hammer-ons to add even more interest and excitement to your songs. With enough practice, you'll be able to start writing your own original flamenco guitar songs! Finally, don't forget that the key to playing a great flamenco guitar song is feeling passionate about it and putting some of yourself into it.
Why is flamenco so difficult?
Flamenco is an incredibly complex style of guitar playing that requires a great deal of skill and practice. The combination of different rhythms, chords, strumming patterns and other techniques can make it difficult to pull off in the beginning. Additionally, flamenco relies heavily on improvisation and each player will have their own unique interpretation of the song – making it especially challenging for beginners. So if you are just starting out or have been playing for years but still struggle with some aspects of flamenco, don't give up!
Useful Video: Basic Flamenco Techniques
Conclusion
Flamenco guitar music is a unique and captivating style of music that can mesmerize listeners. With the help of some basic techniques, it's easy to learn some simple flamenco guitar songs and begin your journey into this intricate and rewarding genre. Once you have nailed down the basics, you can move on to more complex pieces with confidence. To get started, find some instructional resources, practice regularly, and don't be afraid to make mistakes along the way. Before you know it, you'll be playing beautiful flamenco guitar songs!
References
https://harmonyvine.com/easy-flamenco-guitar-songs/
https://cadizsound.store/el-rincon-del-guitarrista/5-easy-flamenco-guitar-songs/
https://www.guitarlobby.com/easy-spanish-guitar-songs/
https://rockguitaruniverse.com/spanish-guitar-songs/
https://tabs.ultimate-guitar.com/tab/lessons-guitar/easy-flamenco-fingerstyle-tabs-2327453
https://www.cordobaguitars.com/live-play-learn/differences-classical-flamenco-guitars/