Are you a fan of country music? Do you dream of someday playing popular songs from your favorite country artists on the piano? If so, then we have some good news for you: there is an abundance of easy-to-play country songs on the piano for beginners! Learning these simple pieces doesn't require any fancy musical background or knowledge – anyone can do it. We've taken the time to curate a list of our favorite straightforward tunes and included tutorials to help guide you in mastering them. So grab a staff paper, put your hands over those keys, and let's get started!
Easy Country Songs on Piano
All My Ex's Live In Texas
This classic song is a great one to start learning on the piano. It has a steady four-chord progression that's not too difficult and can be easily picked up with some practice. The melody is repetitive but catchy, making it perfect for singing along as you play.
Always On My Mind
It is a popular country song that was originally released in 1972. It has been covered multiple times since then and is a great choice for playing on the piano. The intro of this song starts with a simple 4-chord progression, which can be easily learned by any beginner pianist. The song has an easy-to-follow melody, making it a great choice for practicing piano. Furthermore, the slow rhythm of the music helps beginners to learn more easily without having to worry about keeping up with faster tempos. While there are some tricky chords to master throughout the song, its overall pattern remains consistent and easy enough for even novice players to enjoy!
Behind Closed Doors
This classic country song is one of the most well-known piano songs in the genre. Written by Kenny O'Dell, it was first released in 1971 as part of Charlie Rich's album Silver Fox. The intro for this song consists of a simple 4-chord progression that can be easily learned and played on the piano. Its slow tempo allows players to practice their finger dexterity without having to worry about keeping up with faster tempos. Additionally, its overall pattern remains consistent throughout the duration of the song, making it easier for novice pianists to master. [1]

Blue Bayou
It is the classic song of heartache and loss from Roy Orbison, is a great easy country song to learn on piano. Although it may take a few attempts to get this classic down, once you do, you'll be able to show off your skills at any occasion. With its simple but effective melody and fast-paced tempo changes, Blue Bayou can be quite an enjoyable piece of music that will leave your listeners wanting more. For those just starting out with their piano playing journey, this is the perfect piece to start with. Start by learning the basic chords and then move onto some of the more intricate parts of the song. Once you feel confident enough in your abilities, add in some improvisation or personal flourishes to make it really stand out. Make Blue Bayou your own and show off your talents!
Blue Eyes Crying In The Rain
It is one of the most beloved easy country songs to learn on piano. The melody is simple and straightforward, and it's possible to play the main riff with only two fingers. With a few minor chord variations, you can add an interesting texture to this song as you create an arrangement that works best for you.
Born To Lose
This classic blues song by Ray Charles has become an iconic tune, and its jazzy melody is a great addition to any piano repertoire. It's surprisingly easy to play and although the original tempo is quite slow, it can be sped up if desired. The left hand part mainly consists of chords, while the right hand plays mostly single notes. For a real challenge, try adding in some improvisation or an extra verse during your performance! This timeless track is sure to make an impression whenever it's played live or shared with others.
Could I Have This Dance
This romantic country ballad by Anne Murray is perfect for those looking for an easy but heartfelt tune to play on the piano. Its simple yet effective chord progression perfectly captures the emotion of the song while allowing you to show off your skills at keeping a steady beat. The melody in the right hand mainly consists of single notes, so it's relatively easy to recreate – just make sure you take your time and get everything note-perfect! Finish off this beautiful performance with some tasteful improvisation or a few extra flourishes. [2]

Crazy
Crazy by Patsy Cline is one of the most iconic country songs of all time. It's also an incredibly easy song to play on the piano, as it only uses a handful of chords. The verse starts off with two chords: G and D7. From there, you simply move up a fourth to C for the chorus. This simple progression creates a beautiful contrast between the minor and major tonalities that help give this classic track its unforgettable character. To make things even easier, most of the melody lines use single notes so you can easily add them in as you go along. And once you get comfortable with this setup, you can start experimenting with more interesting rhythms and textures to really bring out the emotion of the song.
The Dance
It is an excellent choice for beginning pianists. It can help them to learn the basics of playing country music on the piano, as it has a very simple chord progression and a few easy runs. As well, its slow tempo gives plenty of time for improvisation or to explore different rhythms and techniques. This song will also allow new pianists to start building up their repertoire of more advanced country songs, as they gain more confidence in their skills.
Don't It Make My Brown Eyes Blue
This song is a classic country ballad that is easy to learn and play on the piano. Its simple melody makes it perfect for beginners who are just getting familiar with the basics of playing country songs on the piano. The chords in this song are also fairly straightforward, making it an excellent choice for someone who wants to start improving their skills at playing country music on the piano.
El Paso
El Paso by Marty Robbins is a classic country song that is perfect for learning on the piano. The song tells the story of a man on the run from Texas to Mexico after falling in love with a girl named Felina. Originally released in 1959 and reaching number one on the Billboard Hot Country Songs chart, this song has been covered multiple times throughout the years. The melody of El Paso is relatively easy to learn, starting with an F major chord that will carry through most of the verses. An A minor chord provides contrast for certain sections of each verse while maintaining overall tonality. The chorus includes a simple descending scale pattern over two chords which adds interest without overwhelming a beginner player. When playing El Paso, it's important to focus on the emotion of the song instead of the technicalities. Slow down or speed up certain sections, as well as adding in embellishments to create a more expressive performance. Above all, have fun and enjoy playing this classic country song! [3]

Folsom Prison Blues
Folsom Prison Blues by Johnny Cash is one of the most recognizable country songs of all time. First released in 1955, this song has been covered multiple times throughout the years and remains a mainstay in the live music scene. The melody of Folsom Prison Blues follows a simple two-chord pattern throughout each verse with an occasional third chord for variation. An A major chord is repeated four times during the chorus to create more intensity and interest. This song also features some simple slide guitar parts that can be translated onto the piano easily. When playing this song, focus on emphasizing certain notes to give it character while still maintaining the overall structure and story behind it.
Forever And Ever, Amen
It has an uplifting melody that is fun and easy to play, even for beginners. To get started, only four chords are needed: F major, C major, G major, and D minor. The chord progression follows a simple pattern of F-C-G-Dm throughout the song. Once you've mastered these chords and their transitions, simply add in some light accompaniment to bring out the emotion of the piece. From there you can embellish with fills or solos depending on your skill level and comfort with improvisation.
Friends In Low Places
This is a must-know for any country music fan, and the piano part is surprisingly simple. Start by playing an easy two-chord pattern of D major and G major in the right hand while adding a little bass line (low chords) with your left hand. As you progress through the song, add some more complexity such as dotted notes or triplets to keep things interesting. Keep practicing until you can play it comfortably from start to finish!
Funny How Time Slips Away
It is one of the most beloved country songs. It's a heartbreaking ballad that tells the story of two lovers whose time together slips away too quickly. The song has been covered by countless artists, and it makes for an especially touching rendition on piano.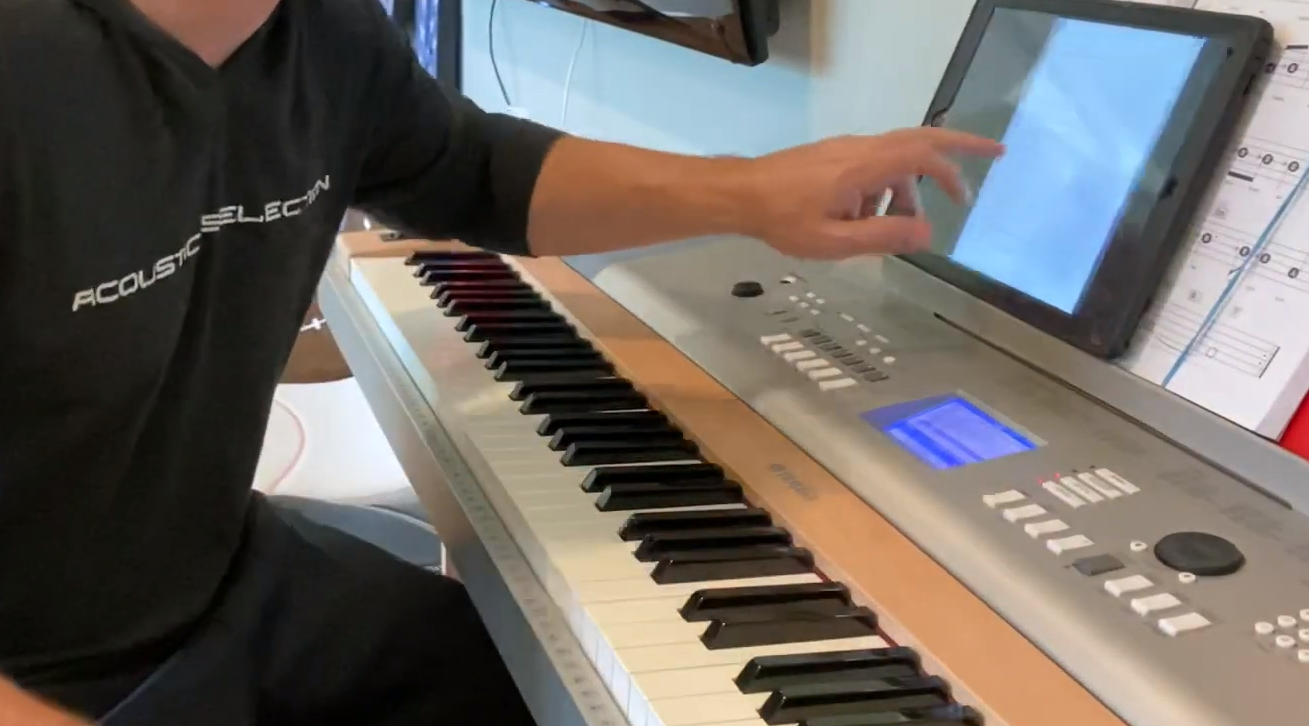 The Gambler
It is a classic song that has been covered by many popular artists. Pianists will enjoy the challenge of mastering this melodic yet complex tune. From its thoughtful, reflective lyrics to its catchy chorus, The Gambler is sure to draw in listeners and move them with its emotion-filled melodies.
Gentle On My Mind
The simple arrangement of the melody and chords make it an ideal choice for beginner pianists. The tune has a bluesy feel, with a syncopated left hand accompaniment throughout. It's also relatively short, making it perfect for those who don't have too much time to practice. With some patience and practice, anyone can learn to play this timeless classic in no time! [4]
Grandpa (Tell Me 'Bout The Good Old Days)
This easy country song on piano is a great choice for those who are just starting out. It features a minimal left hand accompaniment and simple chords that can be learned quickly. The melody is both sweet and nostalgic, making it the perfect tune for family gatherings or other special occasions.
Green Green Grass Of Home
It is a classic country song that is easy to learn on the piano. The melody of this song is simple and can be played with both hands in an alternating pattern for a more dynamic sound. This song also has a few minor chord changes which add to the overall emotion of the piece. With some practice, you will be able to master it easily!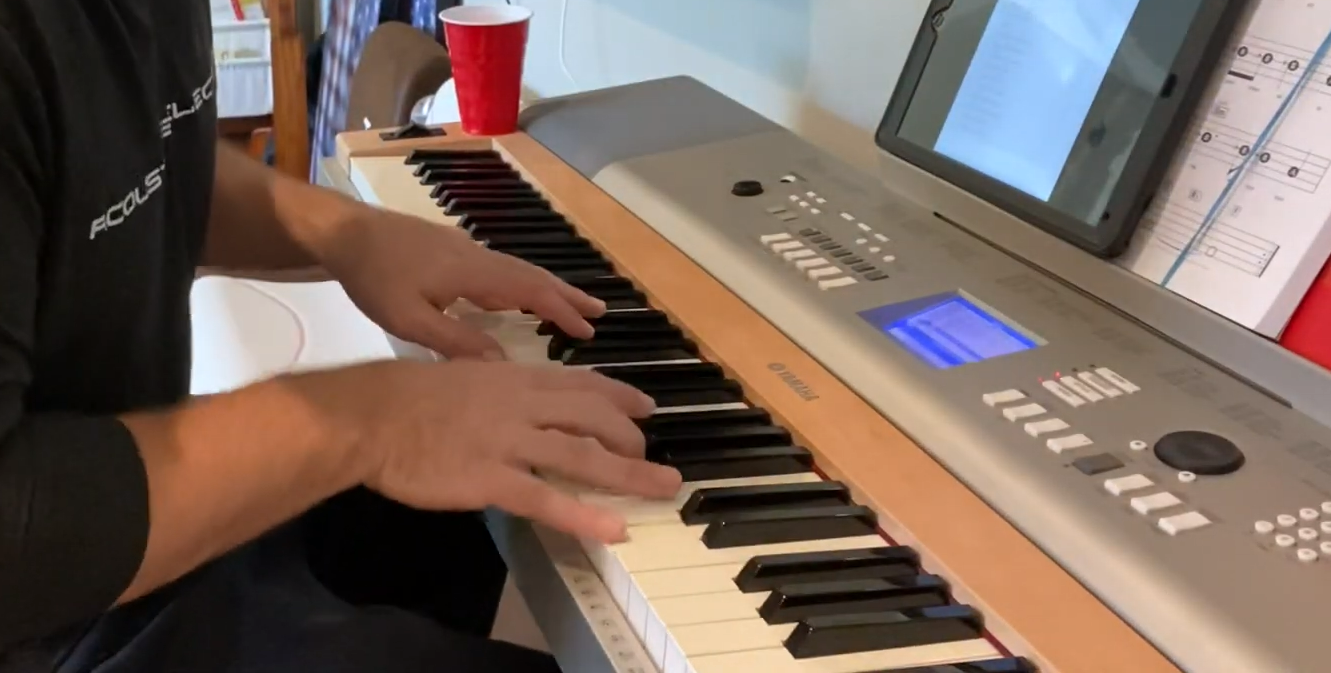 Happy Trails
This classic country song by Roy Rogers and Dale Evans is one of the most beloved country songs. It's a sentimental tune that speaks to those who have had to travel far away from loved ones, but it also speaks of hope for reunion in the future. This forever classic is surprisingly easy to learn on piano, as it's mostly based on a few simple chords and catchy melody lines – making it perfect for beginner pianists or anyone wanting to brush up on their skills.
He Stopped Loving Her Today
This George Jones classic is one of the most memorable country songs from the 1980s. It's a powerful story of love and loss that is guaranteed to bring tears to any listener, but it can also be a fun and challenging piano piece when you learn the song on this instrument. The main melody line is relatively easy to pick up, as are the accompanying chords. However, putting them together in an effective way takes some practice – making it a great choice for intermediate level pianists.
Heartaches By The Number
This piece, written by Harlan Howard in 1959, is a classic country song that is easy to learn on the piano. The song follows a typical 12-bar blues chord progression, with three four-chord sequences repeating throughout. Beginners should start out practicing the left hand accompaniment until it feels comfortable before adding in the right hand melody line. Once you have the chords down pat and can play them together seamlessly, you'll be ready to add your own personal touches to make the song your own. If you want to take things up a notch, try breaking away from the traditional 4/4 tempo and experiment with other rhythms to give Heartaches By The Number some of your own flare! [5]
Help Me Make It Through The Night
This classic song by Kris Kristofferson is a great choice for beginners looking to learn an easy country song on the piano. The key of C major makes it easy to get familiar with the chords, and there's no need to worry about sharps or flats as all of the notes will be natural. You can also add in some simple right-hand fillers between each chord change to make the song sound more interesting and unique. Adding in subtle rhythmic variations to the left hand accompaniment can also give it a unique spin while still keeping true to its original sound.
FAQ
What country songs can you play on piano?
There are many country songs that can be played on the piano, such as "The Gambler" by Kenny Rogers, "Jolene" by Dolly Parton, "Folsom Prison Blues" by Johnny Cash, and "I Hope You Dance" by Lee Ann Womack.
What are some easy country songs to play on piano?
Some easier country songs to play on the piano include "Bless the Broken Road" by Rascal Flatts, "Man of Constant Sorrow" from O Brother Where Art Thou?, "Ring of Fire" by Johnny Cash and "Blue Ain't Your Color" by Keith Urban. These songs typically have more basic chords and progressions, making them a good choice for beginner players.
Are there any online tutorials on how to play country songs on piano?
Yes, there are many tutorials available online that show you step-by-step how to play different country songs on the piano. Some of the popular ones include PianoGroove's "10 Easy Country Songs to Play on Piano" tutorial, and another one from Pianu Academy called "How To Play 5 Country Songs On The Piano". Both of these provide comprehensive lessons on playing various country songs with detailed explanations and visual aids.
Does country music use piano?
Absolutely! The piano is a great instrument for country music and many great songs have been written with this instrument. From the twang of bluegrass to the soulful ballads of modern pop-country, you can find wonderful pieces that are perfect for playing on the piano.
How to play country music on the piano?
It is easier than you think! Country music is known for its catchy melodies and twangy sound, and it can be easy to learn to play on the piano. Some classic country songs are very simple to learn, especially if you already have some basic knowledge of playing the piano. Here are some tips on how to get started playing some of your favorite country songs on the piano:
Start with a few basic chords: To start playing a song on the piano, you will need to know a few basic chords. You can look up some beginner-friendly tutorials online or consult chord diagrams in books that show which keys correspond with each chord. Once you know a few fundamental chords, try practicing them along with different rhythms until they become comfortable.
Get the rhythm right: Country music is known for its upbeat rhythms that can be tricky to learn. To make sure you hit all the notes accurately, practice playing along with a recording of the song and pay attention to timing. You should also try playing some basic grooves such as 8th or 16th note rhythms, which will help you get a feel for country music's signature sound.
Put your own spin on it: Once you have mastered the basics of playing a song on the piano, don't be afraid to add your own unique touches and improvisations!
Useful Video: 4 Chord Country Piano Using My Songbook
Conclusion
No matter what style of piano playing you prefer, there is surely a country song out there that you can play with ease. From the classic tones of Hank Williams to more contemporary songs from Taylor Swift, easy country songs on piano create an atmosphere of nostalgia and emotion that will be enjoyed by all who hear it. Whether you're just starting out or want to brush up on your skills, there is sure to be a few pieces in this list that pique your interest. So grab your sheet music and start jamming! With these easy country piano songs, you'll be sure to wow any crowd.
Happy playing!
References:
https://wanderingtunes.com/19-easy-country-songs-to-play-on-piano
https://www.halleonard.com/product/150166/first-50-country-songs-you-should-play-on-the-piano
https://www.heidmusic.com/first-50-country-songs-you-should-play-on-the-piano/
https://www.volkweinsmusic.com/products/first-50-country-songs-you-should-play-on-the-piano-easy-piano
https://www.musicblitz.com/easy-country-songs-to-play-on-piano/