If you're looking to share the joy of music and make concert time fun with a friend, look no further than easy piano duet songs. Whether you are an experienced pianist or a complete novice, playing together can create a special bond between musicians that is unparalleled in any other medium. Playing two parts simultaneously requires careful coordination and communication between both parties which helps to foster creativity and teamwork – it's no wonder why these types of pieces are such a hit amongst beginning players! From baroque ballads to modern pop songs loosely arranged for two hands, there is surely something out there for everyone. So go ahead, grab yourself some sheet music or hop onto YouTube and get ready for your next musical adventure – here we'll provide tips on how to find the perfect piece as well as offer suggestions for different styles of duets suitable even for those just starting out!
Easy Piano Duet Songs
Autumn Leaves
This classic jazz standard has been around since the 1940s and is a great choice for duet piano players looking to play something with a bit of challenge. The melody and harmony parts can be switched between players depending on skill level, making it an ideal piece to bring two different levels of pianists together. With its recognizable melody and chord progressions, Autumn Leaves makes for a memorable duet performance that audiences will appreciate.
Blowin' In The Wind
It is a timeless classic by Bob Dylan that even the most novice piano players can master. This beautiful, simple duet arrangement pairs two pianists to bring out its subtle beauty. The melody in the left hand is constant throughout, while the right part varies from sparse single notes to full chords on each chorus. Allow both pianists time and space to explore their interpretation as they play together. The result will be a unique performance that has the potential to move any audience! Whether you're playing at a wedding, an intimate recital or just with friends for fun – Blowin' In The Wind guarantees to sound stunning. [1]

Bridge Over Troubled Water
This Simon & Garfunkel classic is a must-play for any duet. The left hand provides the main foundation throughout, with an ever-changing melodic line that creates a lively atmosphere. The right part then adds depth and color to the arrangement, from single notes to full chords. As two pianists play together in perfect harmony, it becomes clear why this song has stood the test of time – its sheer beauty is breathtaking. Allow each musician some creative freedom to explore their own interpretation of this timeless piece – you won't regret it!
Brown Eyed Girl
Brown Eyed Girl by Van Morrison is a classic rock and roll hit that makes an excellent easy piano duet. This song can be performed as either two pianos or one piano with two players. To play it, the melody should be played by the right hand while the left hand plays a steady bass line. The right hand part has simple chords in a repetitive, sing-song pattern, making it great for beginners. It's also a fun piece to perform due to its infectious rhythm and upbeat tempo!
Can't Help Falling In Love
"In 1961, Elvis Presley originally recorded the classic love song 'Can't Help Falling In Love'. It's a great piece for beginner piano players, as the melody line can be kept simple and delicate with just a few chords. Additionally, it can easily be adapted to become a duet – one player playing the main melody while the other plays accompaniment or fills. With its gentle sound and romantic lyrics, Can't Help Falling In Love is perfect for any special occasion!
Chasing Cars
It is a popular easy piano duet song to play. The two pianos complement each other beautifully, as the main melody of the song is split between them. The left hand carries most of the harmonies and chords while the right hand plays the familiar lead line. With its slow tempo and beautiful chord progressions, this song is sure to be enjoyed by your audience!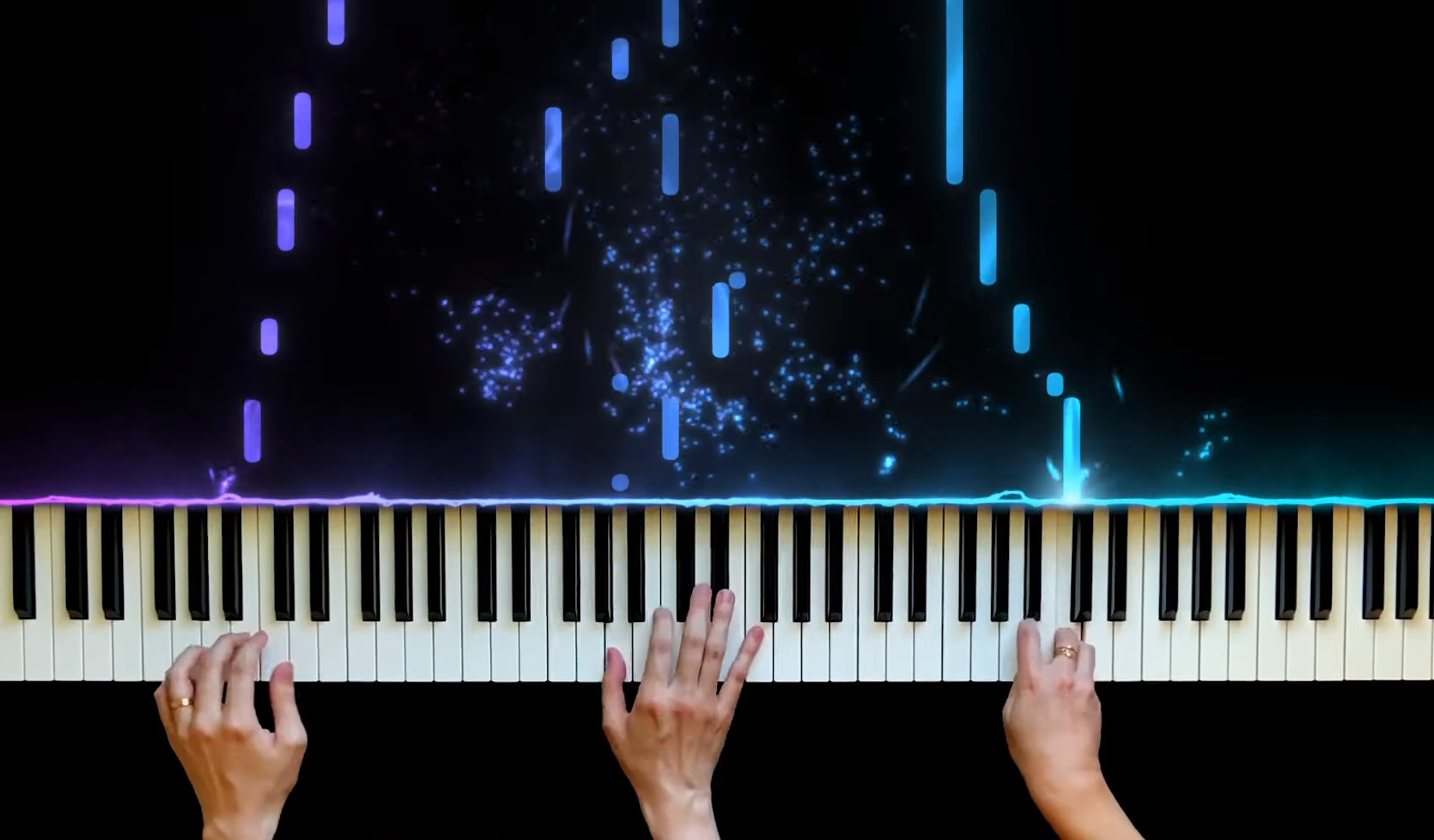 Chopsticks
It is another great easy piano duet song. This classic piece has been around for many years and continues to bring joy to audiences of all ages. The two pianos work together as one instrument, creating a light and playful atmosphere that will put a smile on everyone's face. Both players have an equal part in the performance, with each taking turns playing the main melody or accompanying chords. [2]
Don't Worry, Be Happy
It is a great easy piano duet song for those who are new to playing with another person. This classic from 1988 features just two simple parts – one left-hand part and one right-hand part, making it an ideal piece for beginners. The upbeat tempo and positive message will make this song a joy to play in any setting.
Eight Days A Week
This classic from the Beatles makes a great easy piano duet song. It features two parts in the same range of notes, making it easy to play together. The bouncy rhythm and cheerful melody make this song perfect for an upbeat practice session or performance.
The Entertainer
This classic ragtime tune is sure to get your toes tapping! Made famous by Scott Joplin but arranged for two pianos, this piece has bright melodies that switch back and forth between the two players. It's a great challenge for intermediate players who want to try something more complex than a simple duet.
Every Breath You Take
As a piano duet, it is an excellent song choice for aspiring pianists. This timeless classic by The Police is catchy and fun to play with a friend. It utilizes simple chords that are easy to learn, as well as interesting parts for both players. When playing in duets, one person can take the lead melody while the other provides background accompaniment with bass lines and chord progressions. Every Breath You Take has all of this!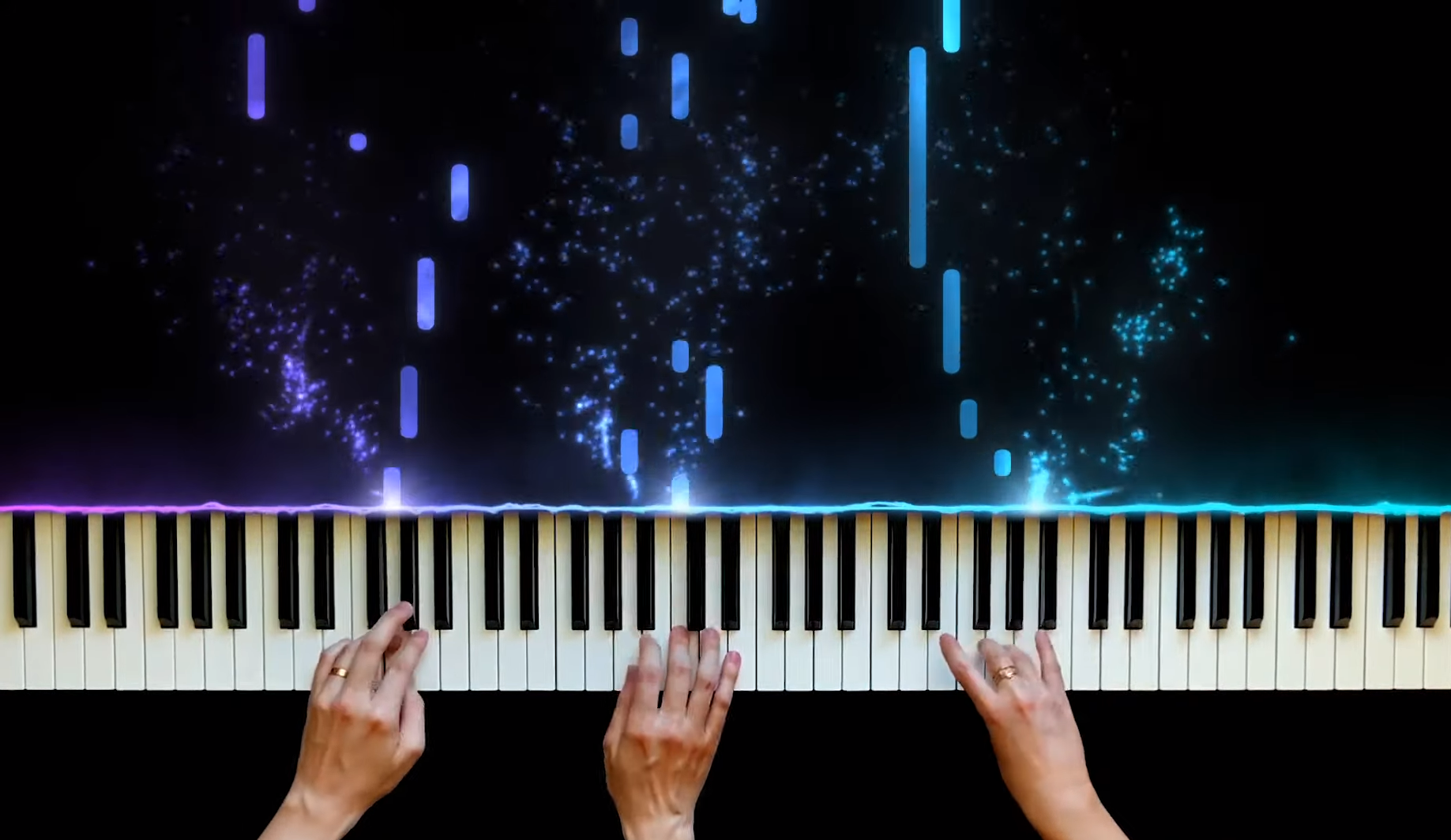 Fields Of Gold
This song is an excellent choice for two pianists playing together. Written by Sting, Fields of Gold is a wistful and romantic tune that will provide the perfect atmosphere for a duet. With simple chords and a memorable melody line, it's easy to learn and enjoyable to perform as a duo. The structure of this song allows one person to take the lead while the other provides accompaniment with complex bass lines and chord progressions that create an emotional atmosphere. Both players can join in on the chorus for added intensity!
Five Hundred Miles
It is a classic American folk song written in the early 20th century. It has been recorded by many artists over the years, but it is particularly suited for piano duet arrangement. The alternating melodies of each part work well on two pianos and are fairly easy to play. This makes Five Hundred Miles an ideal piece for beginner-level duet partners to practice and perform together. [3]
Fly Me To The Moon
This classic jazz standard was written in the 1950s and has since become a beloved favorite. It is accessible for beginner duet players with simple left-hand accompaniments, but it can also be embellished to create more complex musical ideas. In either form, Fly Me To The Moon is a great song for two pianists to enjoy together, with one taking the lead melody and the other creating accompanying chords or rhythms.
Let It Be
A sentimental Beatles hit from 1970, Let It Be is perfect for an easy piano duet arrangement. One part takes the iconic main melody while the other can provide basic harmony accompaniment. The tune itself is so well known that even novice players will be able to play along without too much trouble.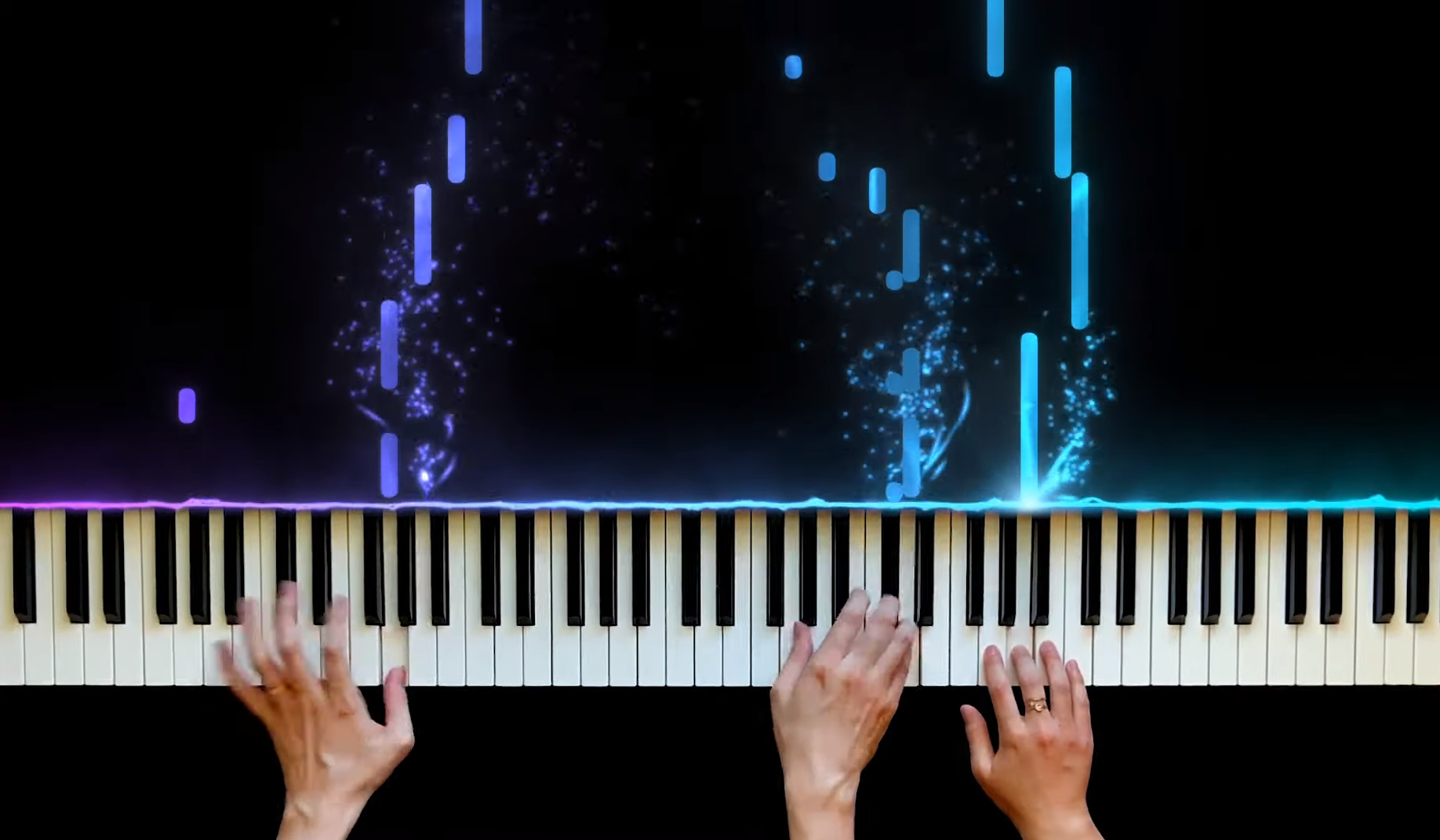 From Me To You
It is an iconic piece that can easily be learned for two pianists to play. Performed in the key of G Major, it features a catchy melody and memorable lyrics, making it perfect for performance or just entertaining friends. It's also short enough to fit into any recital program.
God Only Knows
Possibly one of the most beautiful piano duets, this melancholy piece was originally a Capella before it was arranged for two pianists. It's in the key of F Major and features a simple but harmonic accompaniment that any level of performer can learn with ease. This duet will surely bring tears to anyone's eyes during its performance. [4]
Goodnight, My Someone
Goodnight, My Someone from The Music Man is an easy piano duet song that can be played by two players of any skill level. This classic tune has a simple melody with chords that are easy to follow and few complicated runs or techniques. Piano students of all ages will love to play this timeless piece, as it's quite fun and makes for a great performance piece for friends and family.
Hallelujah
Hallelujah from Leonard Cohen is a wonderful piece to play for any duet. Although it may be a bit more challenging than Goodnight, My Someone, this song isn't too difficult and the two parts can be adapted to suit the skill level of each player. This beautiful arrangement combines both simple chords and lush melodies that will sound great when played together.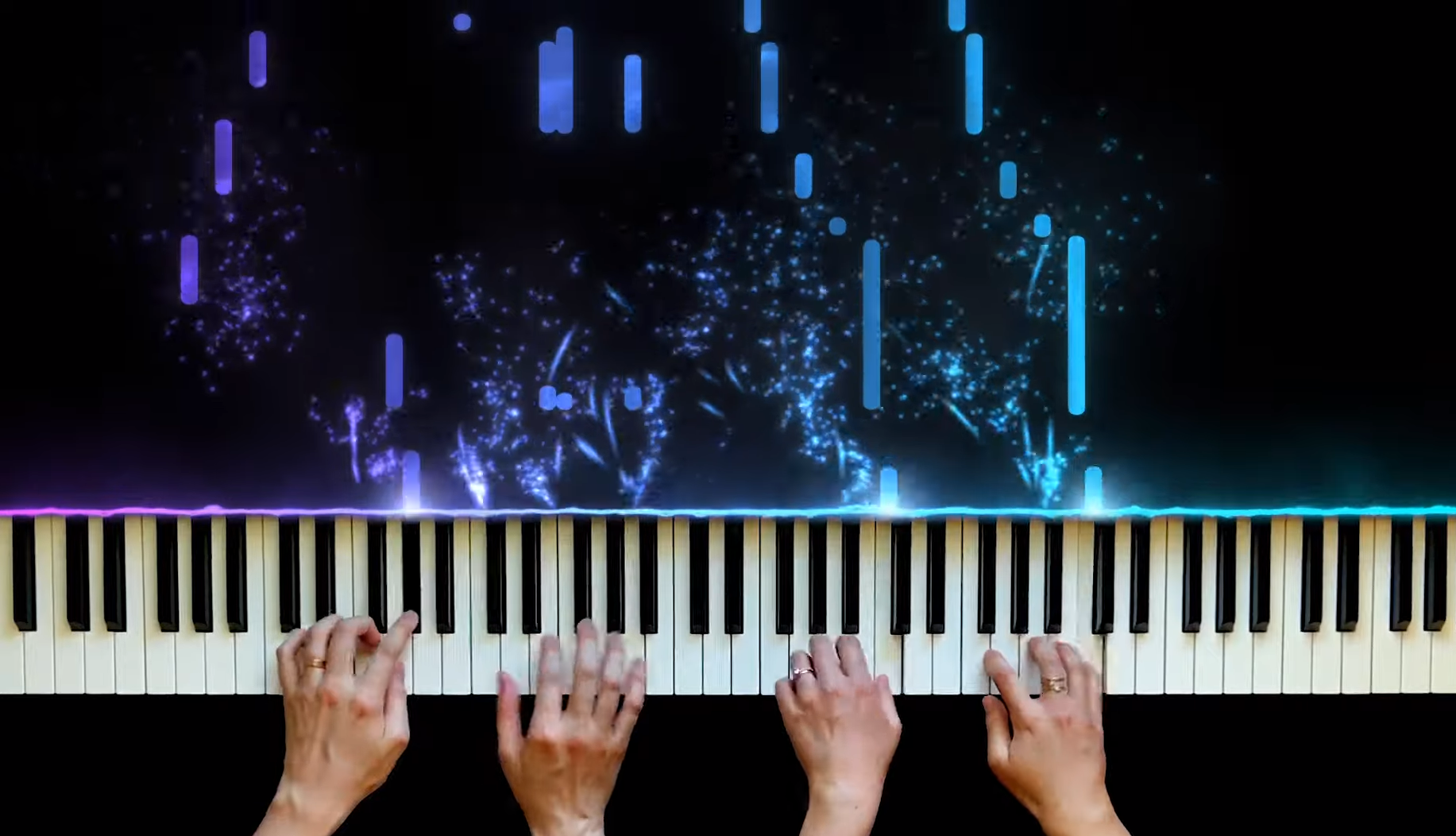 How To Save A Life
It is a great song to play as a two-piano duet. It has an easy piano part that can be adapted for two players, and the lyrics are really meaningful, so it's perfect for special occasions like weddings or anniversaries.
I Just Called To Say I Love You
The piece by Stevie Wonder is an excellent choice for piano duets. This classic song was released in 1984 and is a romantic ballad that can be performed as a sweet accompaniment to any special occasion. The melody is easy to learn and the rhythm allows for playful improvisation between the two players. For those looking for more of a challenge, the lyrics provide ample opportunity to express emotion and add interesting dynamics to the performance. With its memorable chorus and melodic structure, I Just Called To Say I Love You is sure to make any audience smile.
I Walk The Line
This classic Johnny Cash song is a perfect choice for a piano duet. The two parts alternate between simple strumming and melodic lines, creating an interesting dynamic that allows each player to have their own unique sound. It's also easy to learn, making it accessible for beginner players who are just starting out. For those looking for something faster and more challenging, the lyrics present plenty of room to add interesting embellishments and ornaments.
I Will Remember You
It is a beautiful piece to play as a piano duet. Both pianists have an opportunity to show off their skill while playing this song in harmony. It has a slow and peaceful melody that will provide a soothing atmosphere for any occasion. The intertwining of the two parts creates a special dynamic that can be felt through the music as well. Playing this piece together with another pianist can bring about feelings of unity and understanding between both performers. This makes it an excellent choice for those who are looking for something simple yet powerful to play together at any event or gathering. [5]

I'd Like To Teach The World To Sing
This song is a great choice for those who want to perform something that sends a positive message. It has an uplifting and cheerful melody that will be sure to put anyone in a good mood. Playing this piece as a piano duet provides the opportunity for both performers to showcase their skill while expressing the joy and beauty of the music together. This song carries a lot of weight when it comes to meaning, so make sure you practice it beforehand in order to do it justice.
Lean On Me
Lean On Me by Bill Withers is a great song for piano duet. This classic, soulful tune has been covered by many artists through the years and can be enjoyed with two pianists as part of a piano duet. The melody is simple enough to learn quickly but it also features some more complex riffs where each player can have fun adding their own style. With its uplifting lyrics and slow groove, Lean On Me is sure to bring a smile to those playing or listening!
The Lion Sleeps Tonight
The Lion Sleeps Tonight by The Tokens is another great song for piano duet. This classic pop hit has a catchy melody that will get stuck in your head and the two-part harmony makes it perfect for two players of different skill levels to join together. With its easy tempo and simple chords, this song can be picked up quickly and will make a great addition to any piano duet repertoire.
Love Me Do
It is a great early Beatles classic that can be easily adapted for a piano duet. With its catchy melody and simple chord progressions, the song is easy to learn and play. It's also highly recognizable, so even if you make mistakes, your audience will likely still enjoy it! Plus, this song gives players the chance to explore different vocal harmonies as well as collaborative instrumental techniques. This makes Love Me Do an ideal choice for any budding pianists looking for their first piano duet song. [6]

Theme From "New York, New York"
This classic tune from the movie "New York, New York" is perfect for a piano duet performance. It has an instantly recognizable melody and its simple chord progressions make it easy to learn and play. Pianists can also explore different vocal harmonies as well as creative techniques like octave jumps and variations on the song's chorus. This makes "New York, New York" a great choice for any duo looking to show off their skills in a fun and engaging way!
100 Years
It is a popular easy piano duet song that is often used for special occasions. The song was featured on the radio in 2003 and quickly became an instant hit. It has been covered numerous times and remains a favorite of many musicians today. This inspiring ballad begins with the captivating line "If I could see you one more time…" and features a heart-warming chorus that speaks to the strength of lasting relationships. The beautiful lyrics combined with an accessible piano part make this piece perfect for playing together as a duo. Whether playing it at home or performing it during your next recital, this timeless tune is sure to be enjoyed by all who hear it!
Over The Rainbow
This classic duet is the perfect way to show off your musical talents. The timeless melody of "Over the Rainbow" has been played by everyone from Judy Garland to Sir Elton John, and it continues to bring joy to people around the world. What makes this piece so special is that it can be performed in a variety of ways. Whether you choose a more traditional approach or put your own spin on it, playing this song as a piano duo will be sure to set an enchanting atmosphere for any audience!
Peaceful Easy Feeling
It is a great easy piano duet song for beginner and intermediate players. With its simple melody, the two pianists can take turns playing the melody or accompany each other in harmony. It's an upbeat tune that creates a peaceful and relaxed atmosphere, making it perfect for any occasion.
Puff The Magic Dragon
It is another great option for an easy piano duet song. This classic tune has a steady rhythm and simple melody that create a dreamy atmosphere. The pairing of two pianists playing this serene song can be quite beautiful, especially in minor keys.
Right Here Waiting
It is a captivating song that can be enjoyed in its simplest form with two pianos. This easy piano duet features an upper part for the melody and a lower part for harmonic support. Both parts work together to create a lush and beautiful soundscape, and the piece really shines when it's performed with both players in sync. Additionally, this song provides interesting opportunities for embellishment, allowing each performer to add their own unique style and flair to the performance. Whether you're playing on one grand piano or two upright pianos, Right Here Waiting promises to be an intimate musical experience! [7]
Tips On Playing Piano Duet Songs
If you want to learn how to play piano duet songs, there are some tips and tricks that can help make the process easier. Firstly, it is important to determine which type of duet song you would like to learn. Traditional two-piano pieces or contemporary four-hand arrangements with both pianos playing different parts? Once a style has been selected, practice is key. Make sure each player is familiar with their own part of the music before attempting to join together for the full piece.
Rehearse slowly until all players have become comfortable with their individual notes and rhythms. When ready, gradually increase speed while maintaining accuracy in order to get up to performance tempo.
Finally, take time to listen to each other when playing piano duets. Practice with patience and focus on making sure that all of the notes are being accurately played in order to create a cohesive sound.
With practice, you will soon be able to compose beautiful music together!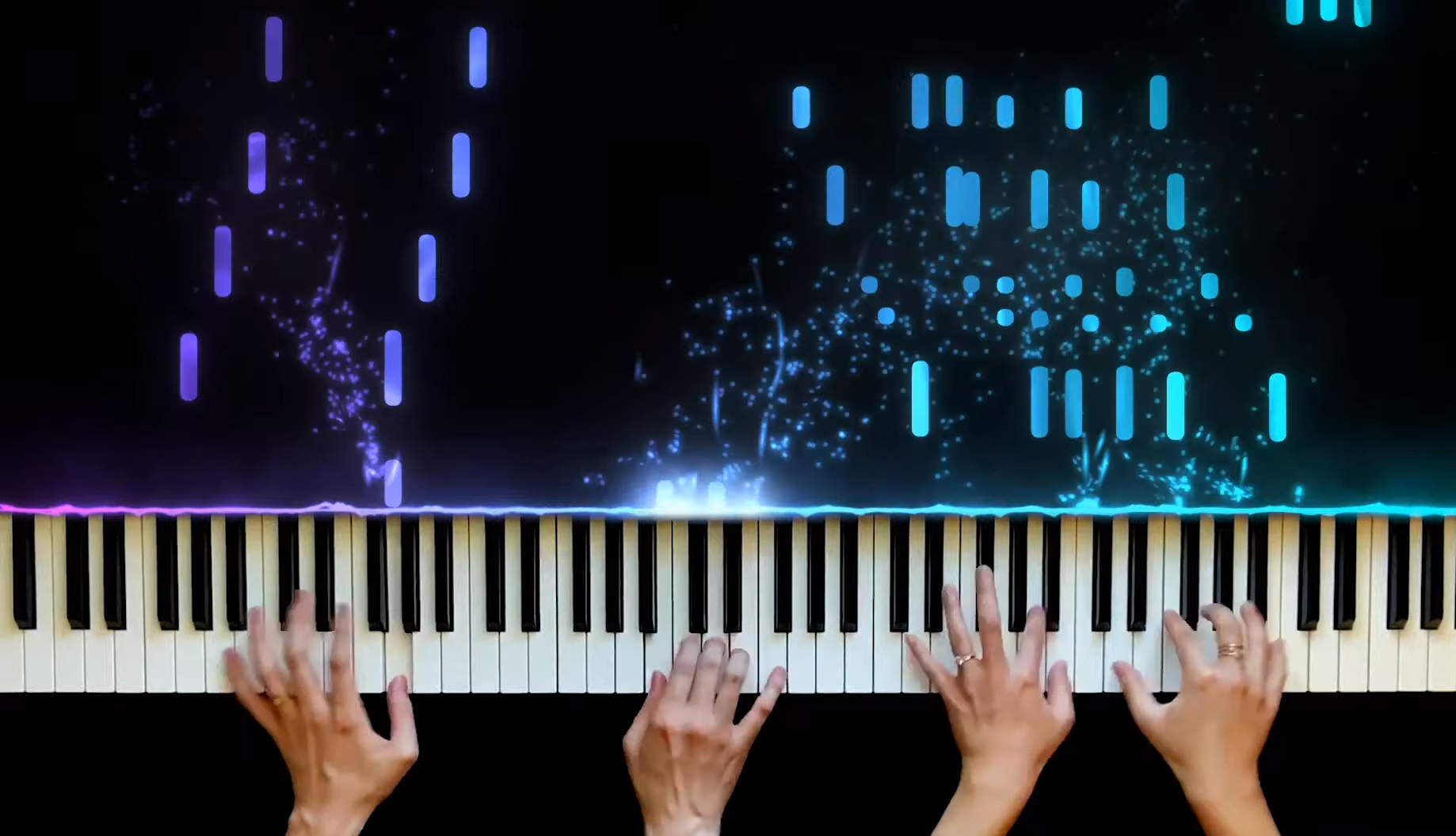 Is It Hard to Play Duet Piano Songs?
Commonly heard in a variety of settings, from classical concerts to private lessons, duet piano pieces are a musical delight for both performers and audiences. But is it difficult to play them? The answer is: it depends. It can be as easy or as hard as you make it! The difficulty of playing duet piano songs will depend on the level of skill each individual musician brings to the piece.
Those who are more experienced with the genre may find some pieces easier than others, while those who are new to the style may find that all pieces present a challenge. For example, if two musicians have vastly different levels of experience with classical music or jazz, then they might find it harder to work together on a piece that requires synchronization and precision. However, with the right amount of practice, even novice musicians can conquer a duet piano piece.
FAQ
What is the famous piano duet called?
The most famous piano duet is a piece called "Für Elise", composed by Ludwig van Beethoven. It is often played as a two-piano arrangement, but can be adapted for multiple instruments as well.
What are some other easy piano duets?
Some other easy piano duets include "Fur Elise" by Beethoven, "Bumblebee Boogie" by Leroy Anderson, "Musette in D Major" by Johann Sebastian Bach, "Greensleeves" by Traditional, and "Heart and Soul" by Hoagy Carmichael. These songs have simple melodies and accompaniments that are easy to learn even for relative beginners. Other easy piano duet songs suitable for two players include the traditional tunes of "She'll Be Comin' Round the Mountain" and "Jingle Bells." Many popular classical composers such as Mozart and Haydn also wrote pieces specifically for two pianos or a piano with vocal accompaniment, making them ideal easy duets for two players. These pieces typically feature arrangements of popular tunes from the classical era and often have simple parts that are suitable even for beginners.
Can you duet on piano?
Yes, duetting on the piano is a great way to learn and practice your skills as a pianist. Whether you are looking for a fun challenge or just want to create beautiful music together with someone else, duetting with another person on the piano can be an enjoyable experience. You can either play different parts of the same song or alternate between taking turns playing each part in a piece. With both players following the same sheet music and learning how to listen and collaborate musically, piano duets are a great way to have fun while honing your performance skills.
How do you compose a piano duet?
When composing a piano duet, it's important to remember that the two players should work together as one unit. Start by choosing a piece that is written for two pianos or one piano with vocal accompaniment. Then, decide on the structure and key of the piece. Consider how you want to arrange each part and which rhythms and notes will work best together. Finally, practice playing it together as often as possible until you both feel comfortable with the music. With patience and dedication, you'll be able to create beautiful music together in no time!
Is it hard to play piano duet?
No, playing piano duet does not have to be difficult. While some pieces may take more practice and skill than others, there are many easy piano duets that are suitable even for beginners. As long as both players commit to learning the sheet music and communicating with each other during their performance, playing a duet can be an enjoyable experience. With patience and dedication, you'll soon master the art of making beautiful music together!
What is the easiest tune to play on piano?
The easiest tune to play on piano is "Happy Birthday". It only requires a few notes and it follows a very simple, repetitive pattern. This makes it an ideal song for beginners who want to learn how to play the piano duet. Other easy tunes that are perfect for playing together as a duet include "Twinkle Twinkle Little Star", "Row Row Row Your Boat" and "Ode To Joy". All of these songs have simple melodies that can be easily learned by both players. With just a bit of practice, you can master them in no time!
Useful Video: Fly me to the moon [4 hands piano arrangement]
Conclusion
Easy Piano Duet Songs are a great way of bringing multiple people together to make music. It allows two people with different skill levels to work together to create beautiful music, and can even be used as an educational tool to help teach children basic musical principles. With so many duet pieces available in the market today, there's something for everyone – from beginners looking for easy melodies, to more advanced players who want a challenge. Whether you're playing at home or performing in front of an audience, piano duets provide a fun and engaging experience that all skill levels can enjoy. So why not gather your friends and family around the piano today to start learning some Easy Piano Duet Songs? You never know where it might take you!
References:
https://www.musicindustryhowto.com/easy-piano-duets-songs/
https://joshuarosspiano.com/easy-piano-duets/
https://takelessons.com/blog/piano-duets-famous-z06
https://www.halleonard.com/product/276571/first-50-piano-duets-you-should-play
https://www.oxygenmusic.com.au/top-hits-for-easy-piano-duet
https://www.sunrisepiano.com/piano-duets-sheet-music-free/
https://www.betsyleebaileymusic.com/easy-piano-duets—hymns.html